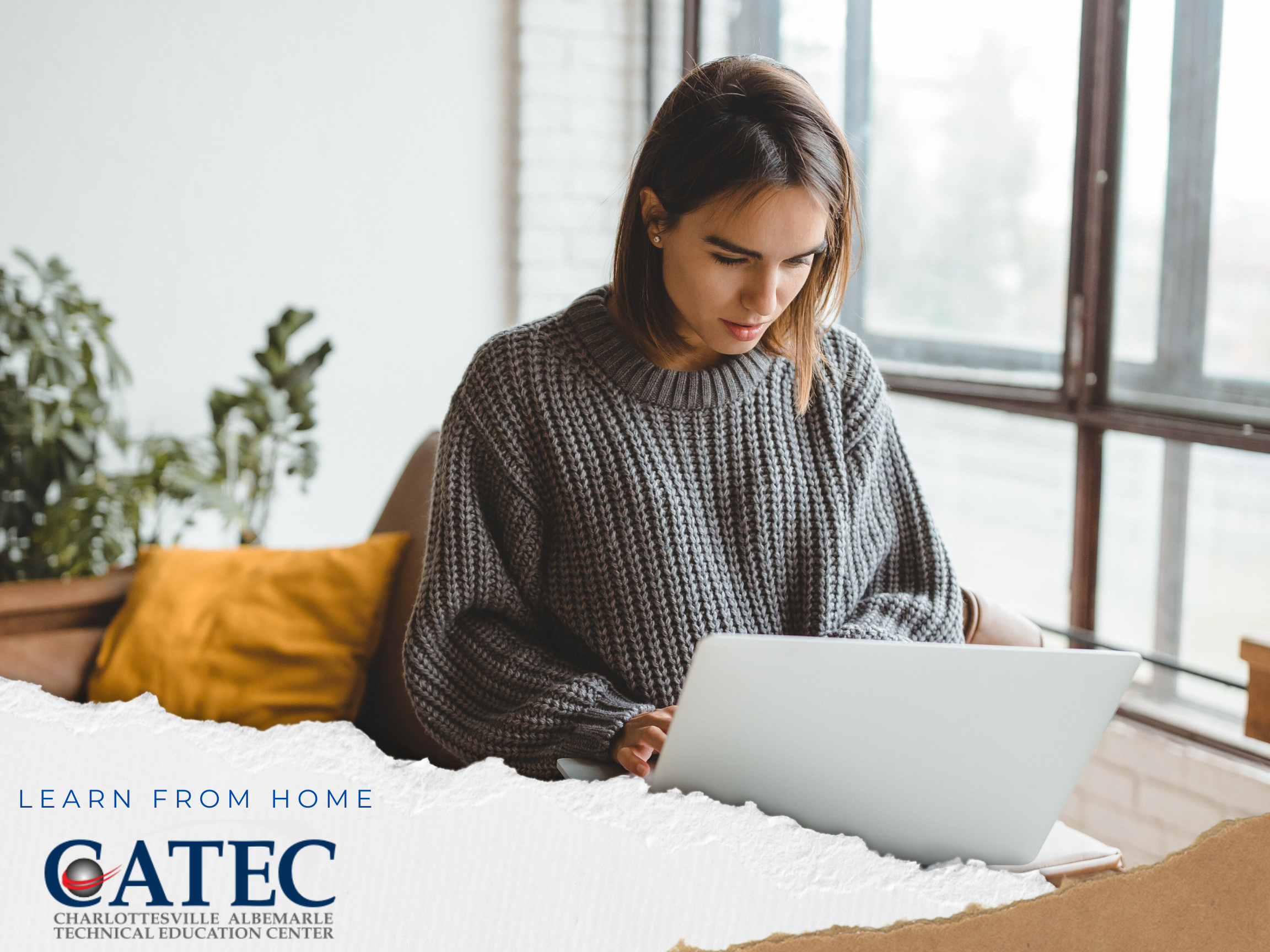 ONLINE PROGRAMS: ANYTIME, ANYWHERE
Start a new career by completing an online course through CATEC's Adult Education and Apprenticeship Programs. The world is changing quickly, both for educators and students alike. The idea of classroom has changed recently. But we're still here, open and we're still Central Virginia's hub for adult education and workforce development. Our online education solutions are ready to serve all of our students today and in the future.
Click here to watch a video about our online learning options.
LEARNING SOLUTIONS
Getting started is easy! All of our online programs have opportunities for national certification, externship placement and/or career support. You'll even have the opportunity to do labs and hands-on activities as required by your program, from the comfort of your own home.
Benefits of our online program include:
Superior content in a convenient online format

Safe online transactions & payment plans available

Complete student learning materials that are shipped directly to you

Learner support through unlimited access to technical and program support through our network of student mentors and instructor resources

Opportunities for certifications

Opportunities for volunteer externships

Student support
WHAT YOU WILL GET
These courses are highly interactive and provide students with an enriched learning experience. Each course includes:
24x7 Learner support & course mentors

6 months access to self-paced course

Engaging labs, student exercises and course videos

All eBooks, textbooks, workbooks and student materials (as applicable)

Career resources & other soft skills training

National & state certifications available!

Certain programs include clinical externships!
 To ensure that all students have the resources they need to succeed, students will have access to a career services website where you can create a professional resume, apply to jobs and showcase your skills to local employers.
Career readiness and soft skills training, resume writing tips, interview techniques, etc.

Career mentors to help students take the next step in their career.

Other skills training including lifelong learning skills, certification exam review and more.
TUITION PAYMENTS THAT FIT YOUR LIFE
Students have options for making payments for tuition and fees. This option provides easy access to enrollment, flexible payment options, great communication, interest-free opportunities. Click here to learn more about tuition options.
ENROLL TODAY
Register here for CATEC's Online Courses and Certificates.
Experience a Course Demo and to learn more about programs.

Request contact to discuss registration and payment plan options.
CONTACT US
For inquiries , contact:
Shannon Tomlin, CATEC Adult Education and Apprenticeship Program Manager, by email or call (434) 973-1945