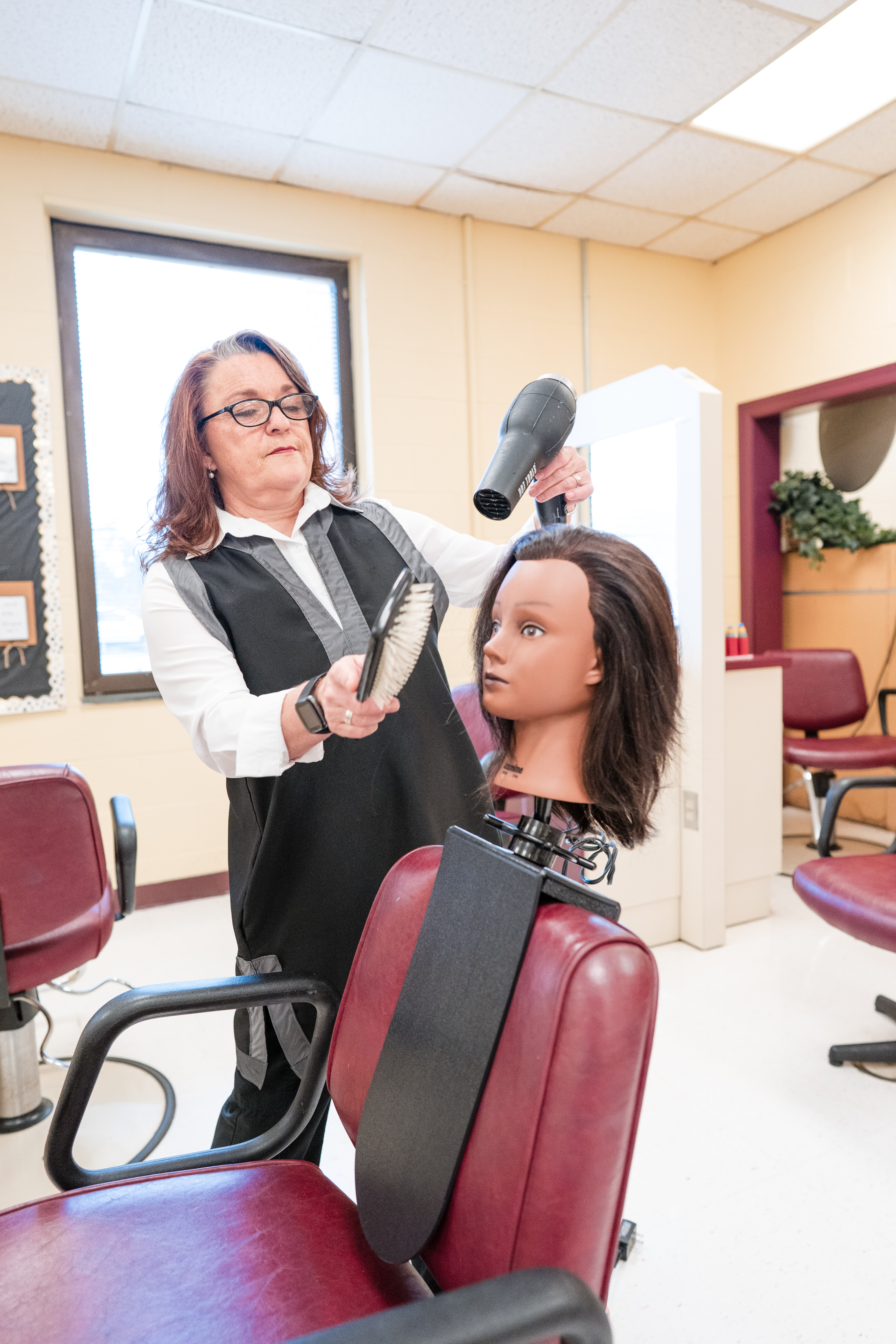 Mrs. Brown started her career in the Cosmetology field 1982 as a "shampoo girl." She received her training as a high school student at CATEC and has been teaching Cosmetology at CATEC since 2001. Mrs. Brown is a licensed Cosmetologist, a licensed Cosmetology Instructor, and a certified Milady Master Educator. When asked what she loves most about what she does, she said, "The thing that I love the most about Cosmetology, and being an instructor, is the change that I see in a client's – or a student's – eyes when it all comes together. Just to know that I may have had a part in that is very rewarding to me."
INSTRUCTOR: JACQUELINE WALLER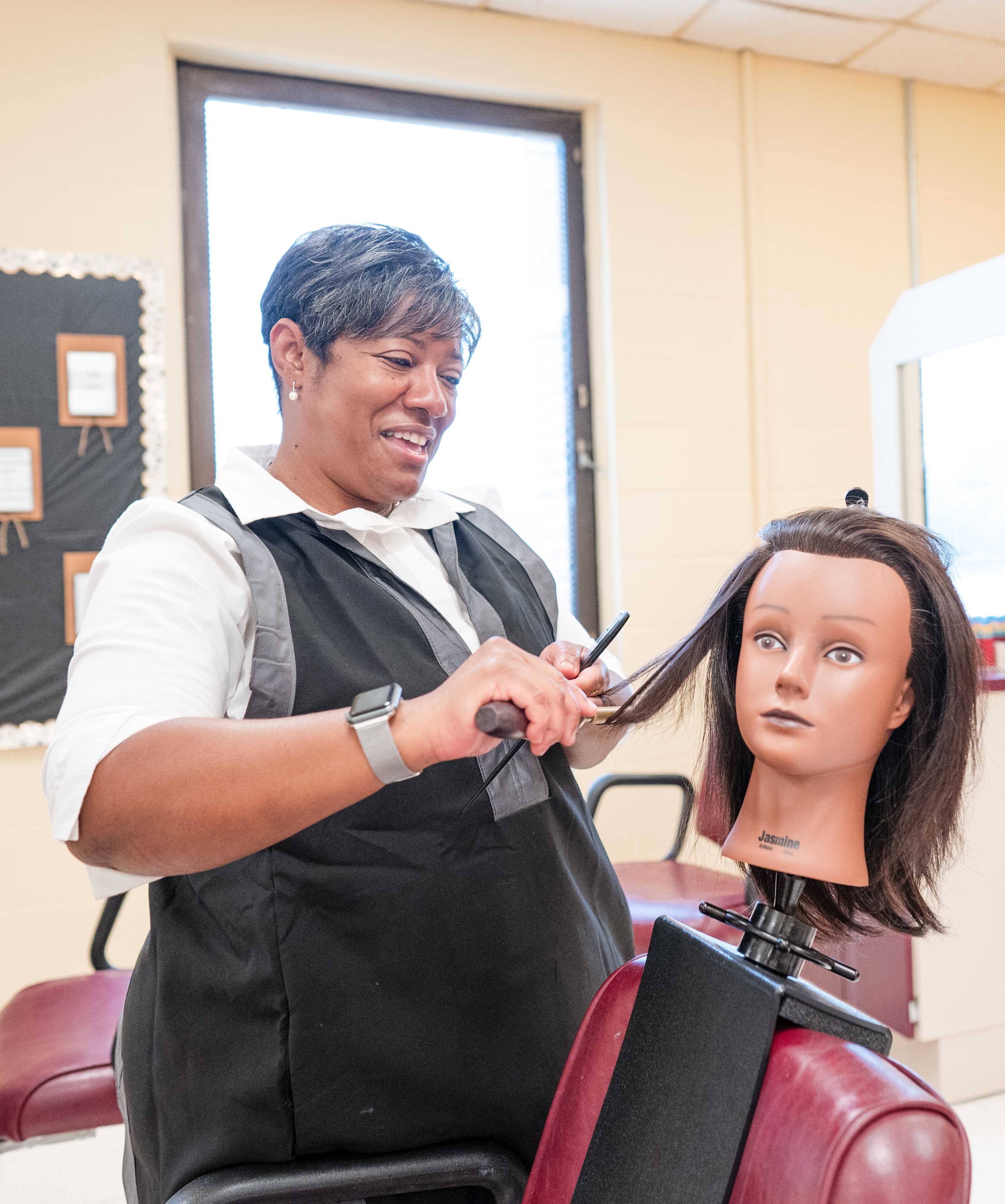 Ms. Waller has worked in the Cosmetology industry and has owned her own salon for more 20 years. She currently holds a Cosmetology License as well as a Cosmetology Instructor's License. Ms. Waller began her studies at CATEC in the Cosmetology program and has continued her education by studying through a certification course at Dudley's Cosmetology University and the Advance Cosmetology Institute every year. She is currently working on her My Milady Master Educator Certification. When asked what she loves most about what she does, she said, "I have thoroughly enjoyed the opportunity to give back the opportunity that was given to me. What I love most about my field has been, and continues to be, having the ability to share the beauty and art that can be achieved in our field. The highlight for me has been when former students return and share their experiences and growth in our industry."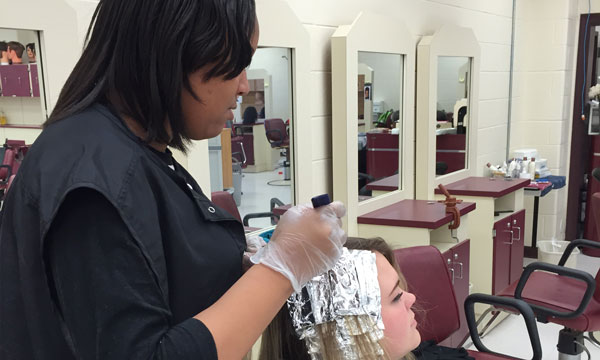 In CATEC's two-year Cosmetology program, students study hair, skin, nails, and their related care. The curriculum is grounded in theory that prepares students to practice procedures in clinical lab and classroom settings. Students use mannequins for manipulative skill practice, training in safety and chemical processes related to permanent waves, relaxing, soft-curling, lightening, and hair color. Students learn to care for skin, hands, and feet, developing expertise in providing facials, manicures, and pedicures. Competency completions prepare the student for the Virginia state-licensing exam.
CREDIT, CERTIFICATIONS, COURSE INFORMATION, AND PATHWAYS
HIGH SCHOOL CREDIT
Students receive up to 3 high school elective credits each year for successful completion of the program. Passage of the certification exam will award the student 2 student-verified elective credits, one of which can be substituted for a verified credit in either science or history.
CERTIFICATIONS
Virginia Board of Cosmetology licensure examination
Virginia Workplace Readiness Skills Assessment
Class: Cosmetology I
State Code: 8527
Duration: 1 year
Grade(s): 10-12
Time(s): AM or PM
Class: Cosmetology II
State Code: 8528
Duration: 1 year
Grade(s): 10-12
Credential(s): State Cosmetology License
Time(s): AM or PM
EDUCATION PATHWAYS:
Institute of Advanced Medical Esthetics
CAREER PATHWAYS
Career Opportunity: Hairdresser, Stylist, Cosmetologist

Provide beauty services, such as shampooing, cutting, coloring, and styling hair, and massaging and treating scalp. May apply makeup, dress wigs, perform hair removal, and provide nail and skin care services.

National Wage Average: $23,120.00

Virginia Wage Average: $29,230.00

Projected Job Growth in Virginia: +10.9%
Career Opportunity: Manicurist, Pedicurist

Clean and sanitize tools and work environment. Advise clients on nail care and use of products. Maintain supply inventories and client services. Treat nails and skin, shape nails and apply color and details.

National Wage Average: $24,000..00

Virginia Wage Average: $22,000.00

Projected Job Growth in Virginia: +11%
Career Opportunity: Skincare Specialist

Provide skincare treatments to face and body to enhance an individual's appearance. Includes electrologists and laser hair removal specialists.

National Wage Average: $31,000..00

Virginia Wage Average: $33,000.00

Projected Job Growth in Virginia: +12%