HEAD CHEF/INSTRUCTOR:
JOSHUA DAVIS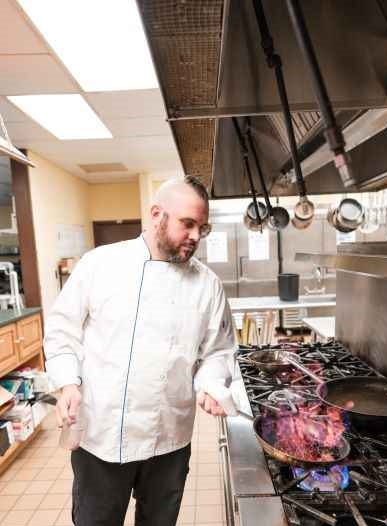 Chef Davis received his Associate Degree from the Culinary Institute of Virginia. He worked in several restaurants in Virginia Beach, spending much of his time cooking traditional Italian cuisine. He worked at Executive Chef at Lake Gaston before moving to Charlottesville to work as Head Chef at a local winery. He looks forward to working with CATEC's students and guiding them into a career field in which he shares their passion.
EXECUTIVE CHEF:
CHRISTINA RIZZO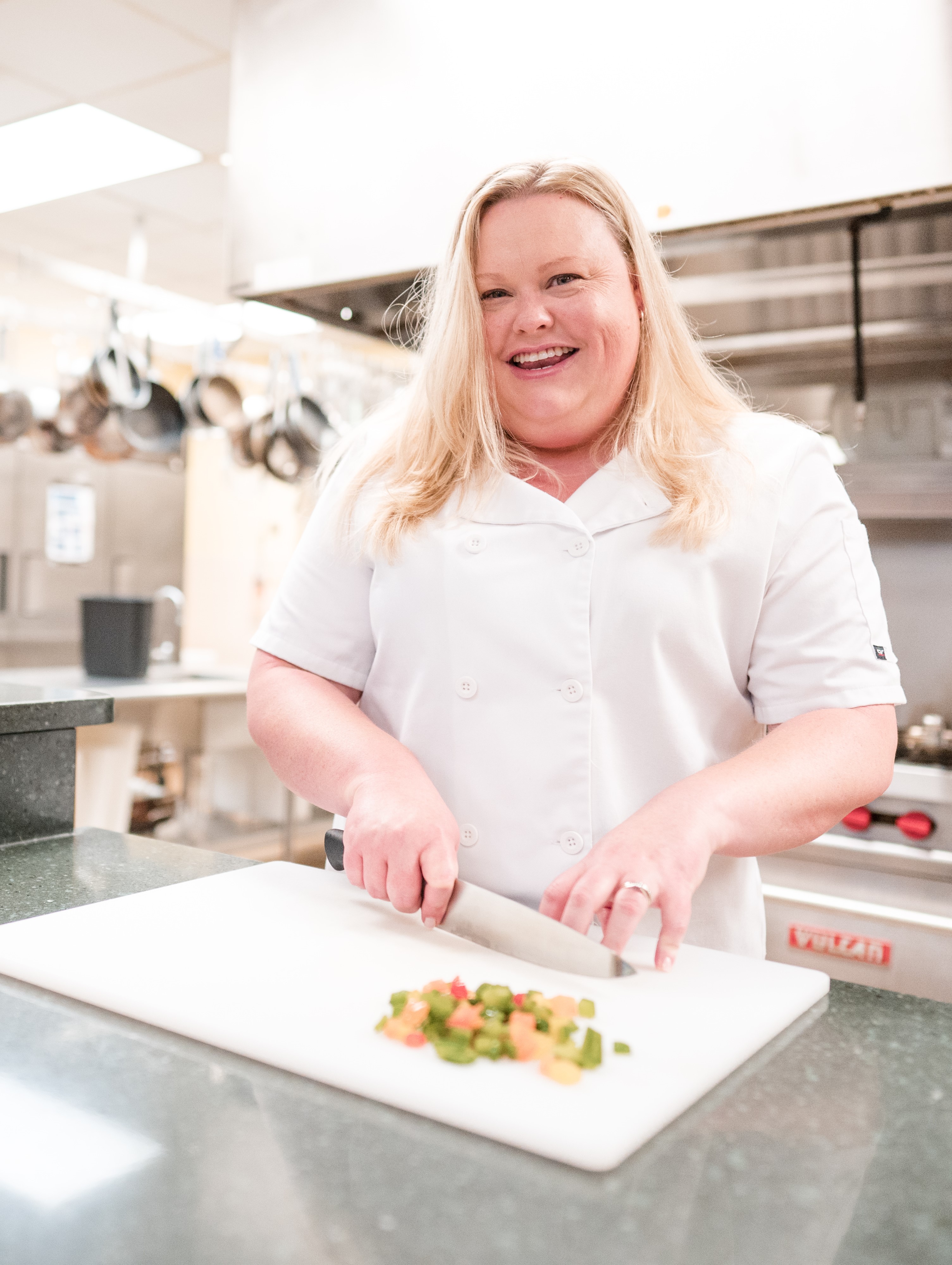 Mrs. Rizzo's love for food and serving others started at a young age when her parents took over their church's kitchen. In 2004, she started her own catering business, that she still operates with her family. Her teaching career started as instructor for Ready, Set, Cook, a class offered by Albemarle-Charlottesville Regional Jail and FUMC, which taught low-income and homeless adults cooking skills and ServSafe. Christina holds a ServSafe Managers Certification and is a Certified ServSafe Instructor and Registered Examination Proctor. Christina began her career with the Culinary Arts program in 2018.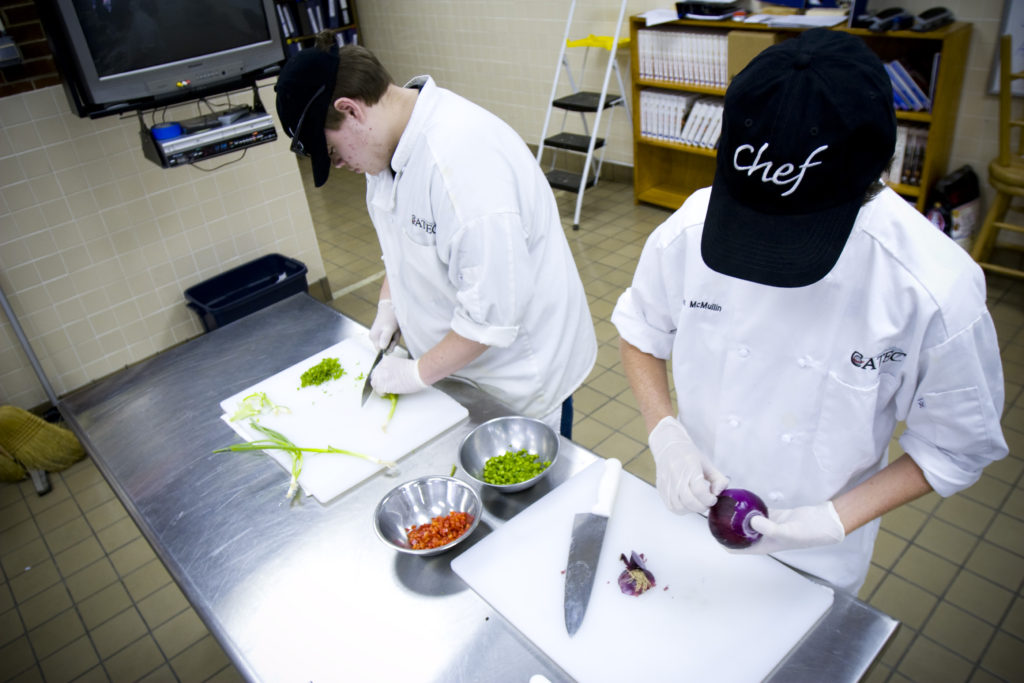 In CATEC's two-year Culinary Arts program, students examine all aspects of the industry. They explore diverse cuisines and service styles by demonstrating basic culinary skills, including knife skills, different cooking methods, food science principles, and scaling and measuring techniques. Students read recipes and develop menus. They investigate food safety and sanitation measures, including kitchen safety procedures. This program prepares students for occupations such as chef/cook, baker/pastry helper, pastry decorator, hospitality worker, dietetic aide/assistant, food demonstrator, and entrepreneur. Critical thinking, practical problem solving, and entrepreneurship opportunities within the field of Culinary Arts are emphasized. Students have hands-on opportunities through caterings and our food bus, Technical Eats.
CREDIT, CERTIFICATIONS, COURSE INFORMATION, AND PATHWAYS
HIGH SCHOOL CREDIT
Students receive up to 3 high school elective credits each year for successful completion of the program. Passage of the certification exam will award the student 2 student-verified elective credits, one of which can be substituted for a verified credit in either science or history.
CERTIFICATIONS
National Occupational Competency Testing Institute (NOCTI) Prep Cook exam
Year 1: ServSafe Food Handler
Year 2: ServSafe Food Manager
Year 2: American Red Cross Basic Life Support for Healthcare Providers
Virginia Workplace Readiness Skills Assessment
DUAL ENROLLMENT CREDIT
The Culinary program is dual-enrolled with Piedmont Virginia Community College. Students successfully completing both years of the program will receive 17 college credits towards an Associate's Degree in Culinary Arts.
Class: Professional Culinary Arts I
State Code: 8521
Duration: 1 year
Grade(s): 10-12
Dual-Enrollment: PVCC – 9 credits
Credential(s): ServSafe Food Handler
Time(s): AM or PM
Class: Professional Culinary Arts II
State Code: 8522
Duration: 1 year
Grade(s): 10-12
Dual-Enrollment: PVCC – 8 credits
Credential(s): Commercial Foods Assessment (NOCTI), Serve Safe Food Manager
Time(s): PM Only
Class: Intro to Culinary Arts
State Code: 8250
Duration: 1 year
Grade(s): 10-12
Credential(s): ServSafe Food Handler
Time(s): AM Only
Students successfully completing the program receive credit for the following Piedmont VirTableginia Community College courses.
| | | | | | | |
| --- | --- | --- | --- | --- | --- | --- |
| | | | | | | |
| | | | | | | |
| | Principles of Culinary Arts | | Intro to Culinary Arts II | | | Fruit, Vegetable and Starch Prep |
| | | | | | | |
| | | | | | | |
EDUCATION PATHWAYS
Reynolds Community College
Culinary Arts, A.S.

Hospitality Management, A.S.

Pasty Arts (Career Studies Certificate)
Piedmont Virginia Community College
James Madison University
Hospitality Management, B.S.
Virginia Tech
Food Science Technology, B.S.

Human Nutrition, Foods, & Experience, B.S.

Hospitality & Tourism Management, B.S. (Business)
Johnson & Wales
Culinary Institute of Virginia
Culinary Institute of America
CAREER PATHWAYS
Career Opportunity: Restaurant Chef

Direct and may participate in the preparation, seasoning, and cooking of salads, soups, fish, meats, vegetables, desserts, or other foods. May plan and price menu items, order supplies, and keep records and accounts.

National Wage Average: $41,610.00

Virginia Wage Average: $41,610.00

Projected Job Growth in Virginia: +8.4%
Career Opportunity: Dietitian & Nutritionist

Experts in the use of food & nutrition to promote health & manage disease. They advise people on what to eat in order to lead a healthy lifestyle or achieve a specific health-related good.

National Wage Average: $59,410

Virginia Wage Average: $60,040

Projected Job Growth in Virginia: +20%
Career Opportunity: Line Cook

Cook, prepare, season, & cook a wide range of foods, which includes soups, salads, entrees, & desserts

National Wage Average: $21,720.00

Virginia Wage Average: $22,180.00

Projected Job Growth in Virginia: +4%