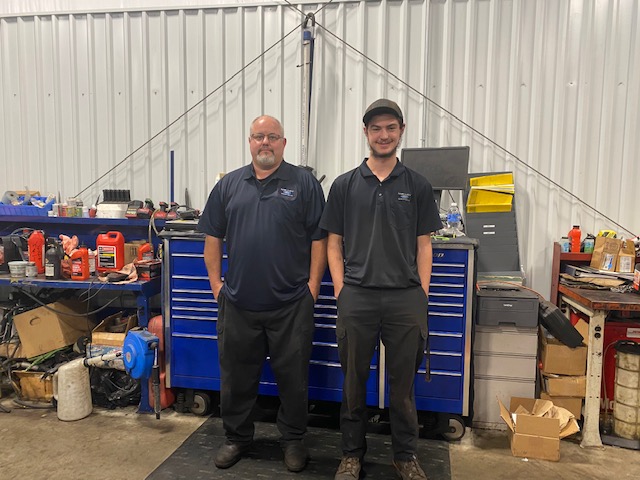 The success of CATEC's High School and Adult Education and Apprenticeship programs relies heavily on CATEC's relationships with our community partners. We work hand-in-hand with local school systems and employers to ensure all of our students have access to relevant academic programs. We strive to develop strong relationships with local businesses that provide guidance, support, and work and training opportunities for our students.
EDUCATION PARTNERS
We work with Albemarle County Public Schools and Charlottesville City Schools to provide academically rigorous courses that seamlessly works with students' interests, career goals, and academic needs. High school students can successfully complete a hands-on learning experience through our programs, including opportunities for real-world, work-based learning experiences, including mentorships, job shadows, internships, and apprenticeships. Students can earn industry credentials, making CATEC students marketable upon graduation.
CATEC's High School program has dual-enrollment agreements with four local community colleges, allowing many students to earn free college credit while in high school. On average, CATEC students earn 11 dual enrollment credits. Working with Piedmont Virginia Community College, Reynolds Community College, Blue Ridge Community College, and Central Virginia Community College, students have opportunities to push their academic skills as well as prepare themselves for their post-secondary career path. These community colleges offer academic programs CATEC students can successfully transition into upon graduation. Additionally, some of our programs have articulation agreements with out-of-state post-secondary trade schools. For more information about education pathways for our programs, visit the High School page.
BUSINESS PARTNERS
Local employers help CATEC students graduate well prepared to compete in the local and global workforce. Each academic program relies on its Advisory Board, a group of local business partners, to ensure students are meeting industry needs, using up-to-date equipment and supplies, and accessing work-based learning opportunities, including Youth Registered Apprenticeships and Apprenticeships. Our local business partners make these experiences possible.
In the past year, our community partners have supported our students in a variety of ways. Our community partners donate their time and supplies to support our SkillsUSA District competitions. They also support our programs through our guest speaker series and interview experiences. Recent community support includes:
The Elk's Lodge donated 350 pairs of safety glasses for student use

The Collision Repair Education Foundation and 3M donated thousands of dollars' worth of supplies to Automotive Body Repair program

Design Electric and Square D donated materials to the High School and Adult Education and Apprenticeship Electrical program

The Dominion Energy Charitable Foundation's Environmental Education Stewardship Grants Program awarded the Culinary Arts program $5,000 for its CATEC Culinary Commons

Malloy Ford donated an automotive twin post lift to the Automotive Service Technology program

Jim Price Hyundai donated a 2016 Hyundai Tucson to the Automotive Service Technology program
BECOME A COMMUNITY PARTNER
Becoming a CATEC-affiliated employer benefits CATEC students as well as local businesses. As businesses looking to hire top-notch employees and build a strong local economy, employers can become an integral part of sustaining the education-to-employment pipeline. Joining a program's Advisory Board allows employers to provide guidance and make curriculum recommendations that can help a business's potential new hires. Businesses can partner with high school students through mentorships, job shadows, internships, or Youth Registered Apprenticeships. Businesses can partner with adult students through its Adult Education and Apprenticeship programs.
Building relationships with CATEC also affords training opportunities for a business's current workforce. CATEC is a certified training site for many continuing education exams and offers post-secondary education opportunities to employees through its Adult Education and Apprenticeship programs. 55 local employers currently send their workforce to CATEC's Registered Apprenticeship programming for additional training.
To view our community partners, click here.
If you are interested in having your business become a CATEC-affiliated business partner, please contact:
Stephanie Carter, CATEC Director, by email or call (434) 973-4461
Shannon Tomlin, CATEC Adult Education and Apprenticeship Programs Manager, by email or call (434) 973-1945