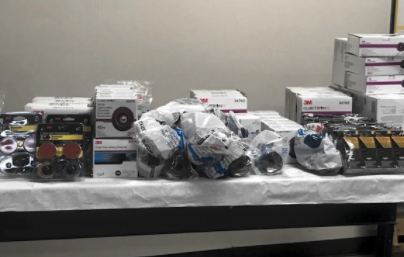 The Collision Repair Education Foundation And 3M Donate Thousands Of Dollars In Supplies To Auto Body Repair Program
Apptegy Admin
Monday, March 23, 2020
The Collision Repair Education Foundation And 3M Donate Thousands Of Dollars In Supplies To Auto Body Repair Program
The Collision Repair Education Foundation grant program, through Inter-Industry Conference on Auto Collision Repair (I-CAR), generously donated thousands of dollars' worth of 3M supplies to Charlottesville-Albemarle Technical Education Center's (CATEC) Automotive Body Repair program this past week.

Introducing Auto Body Students to New Materials
Auto Body Repair program instructor Ronald Moore says the donation will enable his students to "do more projects and be introduced to many different types and kinds of sandpaper." Moore says these products are not normally available to students because of costs. Donated items include many different types and sizes of sandpaper including wet sandpaper, dry sandpaper, and grinding sandpaper. Moore says the sandpaper is "needed for all areas of instruction from dent repair to color sanding final paint for polishing."
Auto Body Repair program students take I-CAR Professional Development Program classes throughout the school year, earning industry certificates as they learn. Students can earn up to 20 certifications, making students more marketable when looking to begin their careers. I-CAR is an international not-for-profit organization focused on providing information, knowledge and skills required to perform complete, safe and quality repairs. I-CAR's focus is to provide everyone involved in the collision repair industry with high-quality, industry-recognized training.
Making a Difference in Student Readiness
Shannon Tomlin, CATEC's Career Center Specialist, says that the donated supplies will "make a difference in the quality and level of readiness for every student entering the industry." CATEC's Auto Body Repair program is a two to three-year course that covers competencies enabling students to enter the Auto Body industry after high school, or sometimes even before graduation. Students have opportunities to earn high school credit and income while attending CATEC when they enter internships with local Auto Body shops in Charlottesville.