Charlottesville Elks Lodge Donates 350 Pairs Of Safety Glasses
Amanda Jay
Monday, March 23, 2020
Charlottesville Elks Lodge Donates 350 Pairs Of Safety Glasses
The Charlottesville Elks Lodge once again generously donated safety glasses to Charlottesville-Albemarle Technical Education Center (CATEC) for the 2019-2020 school year. Four of CATEC's program areas will be able to use the 350 donated pairs. The Elks Lodge has been donating safety glasses to CATEC for many years.
Safety at CATEC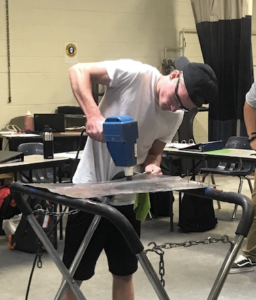 Practicing industry safety is an important aspect of training young professionals at CATEC. Built into their industry competencies, our Building Trades and Electrical, Automotive Body Repair, and Automotive Service Technical instructors strive to meet industry standards on day one. Building Trades and Electrical instructor Sidney Trimmer says the donation "helps us save about $200 a year for safety glasses. We use them every day." CATEC will be able to use instructional funds to cover other essential needs that will prepare its students for the workforce.
The Charlottesville Albemarle Technical Education Center (CATEC) is a regional technical education center, which helps high school students and adults obtain the jobs they seek. Our centralized, unified career development program helps students develop strategic approaches to cultivating their careers. CATEC was founded in 1973 and serves students from both Albemarle County Schools and Charlottesville City Schools.