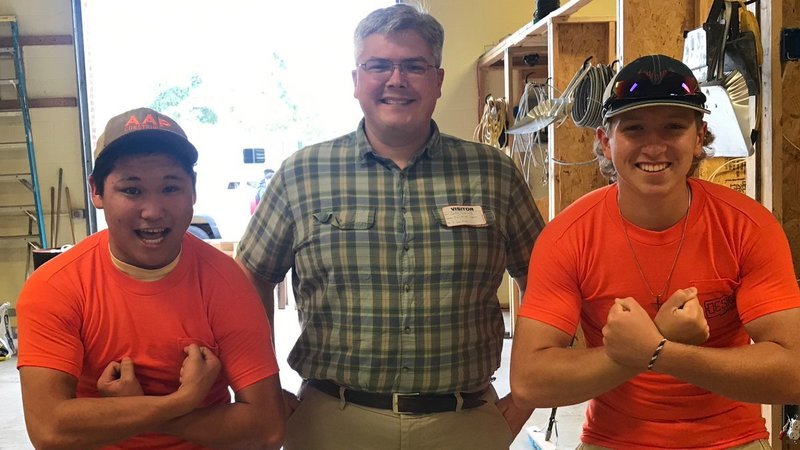 Charlottesville-Albemarle Technical Education Center (CATEC) continues to bolster its longstanding registered apprenticeship partnership with Design Electric, Inc. This past fall, CATEC's Adult Education and Apprenticeship Program Manager Shannon Tomlin helped secure a $38,590 grant for Design Electric, Inc. through the Shenandoah Valley Workforce Development Board's Valley to Virginia Workforce Grant. This grant was appropriated by the American Apprenticeship Initiative to the Commonwealth of Virginia. It builds on "earn and learn" training opportunities the U.S. Department of Labor launched in 2015 to expand registered apprenticeships to new communities and industries. Design Electric, Inc.'s Personnel Director Casey Carwile says, "We are extremely grateful to you Ms. Tomlin at to CATEC for continuing to work with us so closely."
Design Electric, Inc. was awarded $19,295 for each semester of the 2020-2021 school year. The company historically covers 100% of tuition costs for their approximately 25 apprentices attending classes through CATEC's Adult Education and Apprenticeship Program each year. Apprentices then only cover their textbooks. The grant covers 93% of Design Electric, Inc.'s registered apprentice tuition costs, including textbooks this year, helping their 22 apprentices continue their educations in the midst of a pandemic. CATEC has been able to offer apprentice classes both in person and online this year. 37% of Design Electric, Inc.'s apprentices chose to take classes online for the fall semester. Tomlin says, "while we did successfully run in-person classes for the fall semester, I didn't want COVD-19 at-risk or susceptible populations to miss the opportunity to continue or complete their training." Tomlin worked to offer online apprenticeship training using National Center for Construction Education and Research (NCCER) curriculum. Because online training was a popular option, it gave apprentices who preferred taking in-person classes the opportunity for smaller classes. Smaller classes were able to follow mitigation strategies, including mask wearing, and social distancing requirements while in the building.
Additionally, CATEC's high school students, and many of its adult education programs, use NCCER curriculum for their programs. High school students can earn one year of school towards a four-year apprenticeship program. Many of CATEC's high school Electricity students have been hired by Design Electric, Inc. as youth registered apprentices. These students work half of the day at Design Electric, Inc., while earning high school credit, and attend their high school academic classes the other part of the day.
Carwile says Tomlin's "efforts in facilitating this grant arrangement and assisting our registered apprentices at Design Electric, Inc. helped so much during the current fiscal year." Apprentices have 8,000 hours of on-the-job training and 576 hours of related technical instruction. Students completing all four years of training or the 576 hours leave CATEC with a certificate of completion. Once they complete the related technical instruction and their on-the-job training hours, they are eligible to sit for their licensure exam to be journeyman electricians. After that, they can study to become master electricians. Tomlin says, "CATEC has had an enduring relationship with Design Electric, Inc. and we are extremely grateful for our partnership with them. We are thankful they allow us to provide apprenticeship training to their workforce."
CATEC is a regional technical education center that helps high school students and adults obtain the jobs they seek. Students have opportunities to practice hands-on and work-based learning activities alongside academically-driven curricula. CATEC prides itself on its built-in value, equity-based programs, and contribution to students' learning journeys.