May 17-23 is National Emergency Medical Services Week. EMS Week brings together local communities and medical personnel to honor the dedication of those who provide the day-to-day lifesaving services of medicine's "front line." Now, more than ever, Charlottesville-Albemarle Technical Education Center (CATEC) thanks all of our emergency first responders for their public service and celebrates its Emergency Medical Technician (EMT) students who will enter the industry in the service of others.
As part of CATEC's Health and Medical Sciences Academy, the EMT program gives students the opportunity to learn the basics of emergency medical care. Students learn about anatomy and physiology, initial patient survey and triage, airway management, oxygen therapy, treatment of bleeding, shock, cardiac arrest, fractures, spinal injuries, and other medical emergencies. Students can become certified in American Red Cross Basic Life Support for Healthcare Providers, the Virginia Workplace Readiness Skills Assessment, and the National Registry EMT- Basic certification.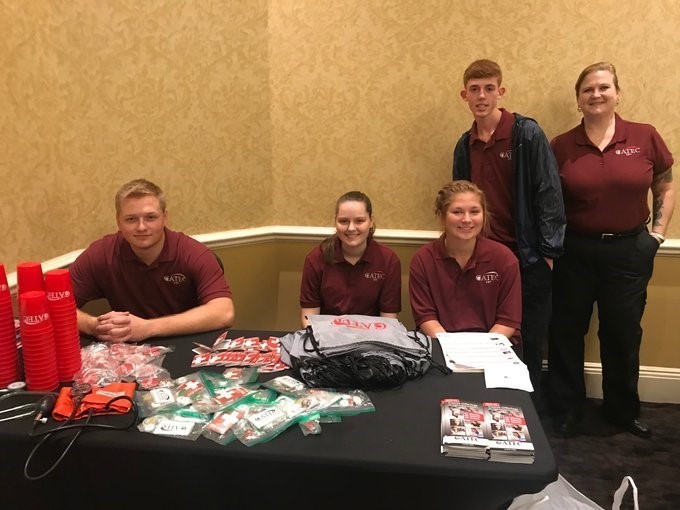 CATEC's EMT program is dual-enrolled with Piedmont Virginia Community College (PVCC). Students successfully completing the program may receive 12 college credits for the courses in EMT, EMT Clinicals, First Aid and CPR, and Introduction to Medical Terminology. Students participate in a required 30-hour clinical experience at local emergency locations, including local rescue squads and the University of Virginia University Hospital. Student experiences are thoroughly documented, determining whether students can sit for their Virginia Emergency Medical Technician-Basic exam.
Many EMT Service students return to CATEC to participate in its Fire Service program, or vice versa. Upon graduation, students can continue their education at PVCC, Reynolds Community College, or Blue Ridge Community College to study in their EMS Paramedic programs, earning an Associate of Applied Sciences. 2018 EMT and 2019 Fire Service graduate Kenley Woods enrolled at the Great Lakes Maritime Academy in Traverse City, Michigan in August 2019. Woods is studying Maritime Engineering for four years, earning a Bachelor of Science degree in Maritime Technology. Woods will graduate with his Coast Guard license and will be an Officer, First Engineer. He attributes much of his success to his accomplishments at CATEC, where he is earned 24 combined college credits and certifications in the EMT and Fire Service programs.
2020 EMT graduate Abigail Norton, who also graduated in 2019 from CATEC's Building Trades program, will use her EMT knowledge when she begins classes in the fall at Virginia Commonwealth University as a Pre-Heath Major. She hopes to attend its nursing program and will volunteer at a Richmond rescue squad. Norton has been surprised about the amount of time she has dedicated to the EMT program. She says she spends many hours studying scenarios and materials for exams, saying that while the coursework is challenging, she gets great satisfaction in providing for others on what is potentially the worst day of their lives. Norton says her favorite part of her EMT class is how its content overlaps with that of other classes she takes, including her Advanced Placement Biology and Advanced Placement Psychology classes. She says, "It is fascinating to know how to treat certain conditions, recognize symptoms, and understand the molecular basis for the whole process." In ten years, Norton hopes to have a Bachelor of Science in Nursing, eventually earning her Master's degree in emergency medicine, or hopes to be working as a nurse practitioner.
There are many career pathways for emergency medical professionals. Most often, students can train to become an EMT/Paramedic who assesses injuries, administers emergency medical care, and extricates trapped individuals. They can also transport injured or sick persons to medical facilities. The projected job growth for EMT/Paramedics in Virginia is 20%. Professionals can also become Medical Assistants. Medical Assistants perform administrative and certain clinical duties under the direction of physicians. They can schedule appointments, maintain medical records, take and record vital signs and medical histories, prepare patients for examination, draw blood, and administer medications. On average, Virginia's Medical Assistants earn more than the national average and can expect 35% job growth. CATEC EMT instructor Catherine Gardner says, "In EMS, new things are regularly being introduced, new research is being done, and all of this impacts our work in the field. EMS doesn't get stagnant; there's always something changing or improving and every day at work is different."
Charlottesville Albemarle Technical Education Center (CATEC) is a regional technical education center that helps high school students and adults obtain the jobs they seek. Our centralized, unified career development program helps students develop strategic approaches to cultivating their careers. CATEC was founded in 1973 and serves students from both Albemarle County Schools and Charlottesville City Schools.
By: Amanda Jay