Charlottesville-Albemarle Technician Education Center (CATEC) Fire Service student Kyle Bishop dedicates his time to the service of others. Having lived in Albemarle County his whole life, Bishop has always enjoyed helping people. He says doing so gives him the opportunity to work with people who are good role models. The program nearest and dearest to his heart is Scottsville Bread of Life, a distribution program that provides food and supplies through the Blue Ridge Area Food Bank to those in need. He estimates he has volunteered more than 300 hours to this organization.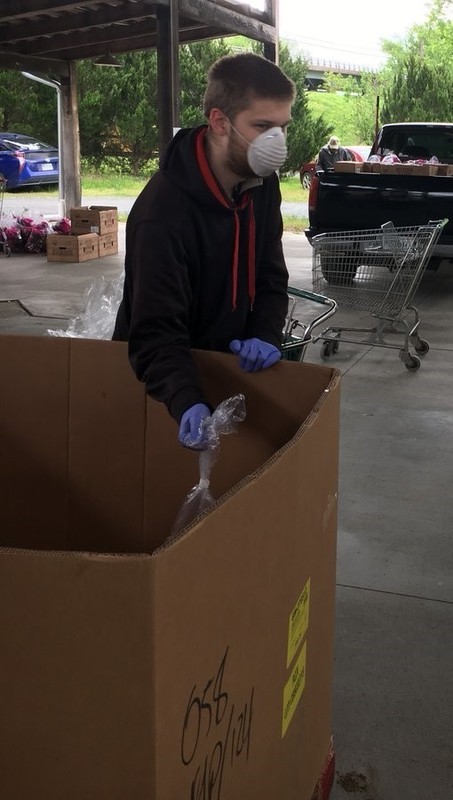 Bishop does many jobs at Scottsville Bread of Life. He spends time unloading, storing, bagging and distributing food to organizations and families. Just this week, he will help distribute food to 22 residents at a local senior living facility. Then he will help load food into clients' cars at a drive-through distribution point. Every Sunday, Bishop picks up food from the Scottsville Food Lion, then sorts and packages it at a local church, later delivering it to 11 families in Esmont and Schuyler areas. During our community's stressful and financially strained times, Bishop says he has seen more food donated to the distribution program than normal and says he has seen an increase in community members needing food. Fire Service instructor Bobby Elliott says, "Kyle is all about helping others who are in need. As he does with the food bank, he is a true leader and one that brings happiness when you are in his presence."
Bishop also shows his dedication to public service through his coursework at CATEC. He is graduating from CATEC's Fire Service program this week. Bishop says, "The Fire Service class was the best class that I have ever taken in my life. I like the hands-on aspect of this class. I like the real-life experience of being in situations that firefighters are in." Last fall, he was named CATEC Student of the Month. He is CPR and First Aid certified and receives 14 dual-enrollment college credit from Central Virginia Community College and Piedmont Virginia Community College. In March, he placed first the Scrapbooking competition at the SkillsUSA District competition held at CATEC. Continuing his life of service, he is currently applying to volunteer in an Albemarle County Fire Department station.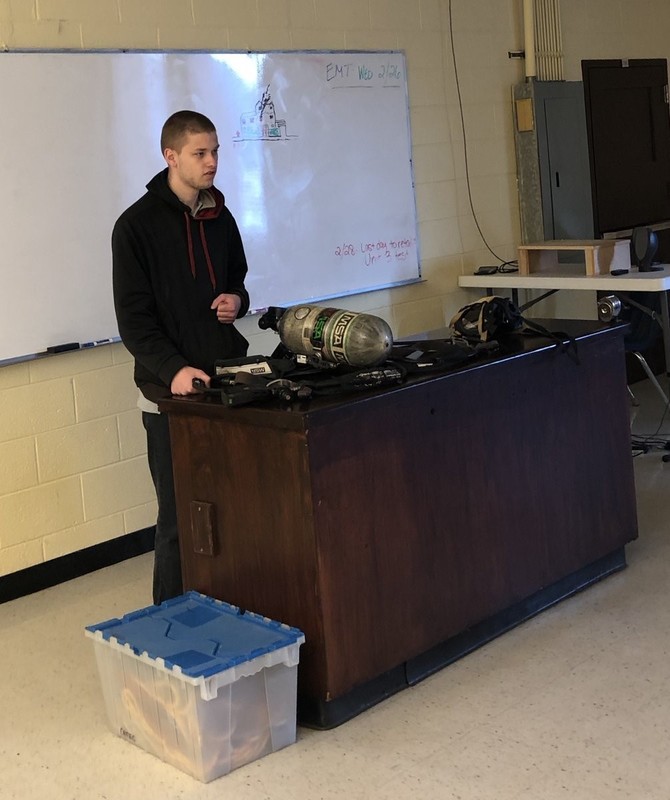 Elliott says Bishop is "a fantastic student and is willing to help his fellow students with any task. He has been a big help to me during the school closure in searching out ways to train the other students online." Next year, he will return to CATEC to take its Emergency Medical Technician class. Bishop says he is currently thinking about a career in aviation mechanics. I am thinking about being an airplane mechanics and a firefighter."
Charlottesville Albemarle Technical Education Center (CATEC) is a regional technical education center that helps high school students and adults obtain the jobs they seek. CATEC was founded in 1973 and serves students from both Albemarle County Schools and Charlottesville City Schools.