With our community social distancing during this unprecedented time of Covid-19, there have been lots of memes circulating about how bad people's hair, skin, and nails will look when they emerge from self-isolation. Never before have we realized how much we rely on our hairstylists to keep us feeling like our best selves. That is why we are particularly thankful for National Hairdresser Appreciation Day, celebrated this year on Saturday, April 25th. And, Charlottesville-Albemarle Technical Education Center (CATEC) is celebrating its Cosmetology program and all of the stylists in our community.
CATEC's Cosmetology program is a two-year program consisting of 840 training hours. Students study hair, skin, nails, and their related care. The curriculum is grounded in theory that prepares students to practice procedures in clinical lab and classroom settings. Students use mannequins for manipulative skill practice, training in safety and chemical processes related to permanent waves, relaxing, soft-curling, lightening, and hair color. Students learn to care for skin, hands, and feet, developing expertise in providing facials, manicures, and pedicures. Additionally, as part of the program curriculum, students study business management and instructors Karen Brown and Jackie Waller spend countless hours of classroom time emphasizing workplace skills. Brown, who teaches Cosmetology I, says she loves seeing students grow during their two years in the program. She says, "Once students enter and see the broadness of the program and the many options they have within our field, it ignites a fire that is visible. To watch the pride that they feel when they master a hands-on project ignites my fire. When these young ladies and gentlemen begin I get to watch true passion develop as they progress."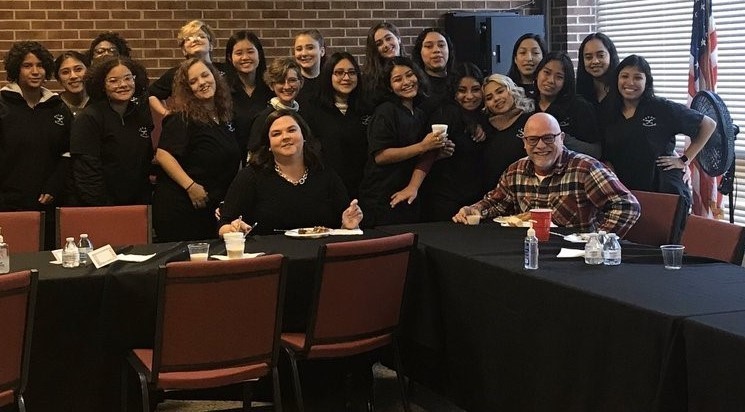 Cosmetology II students spend their second year progressing in their learning and preparing to take their Virginia Board of Cosmetology examination. Cosmetology II Instructor Waller says, "The second-year students are relatively settled in as they come in. Then we begin more advanced skills and theory. I think what I enjoy outside of the Cosmetology skills, is watching the growth in their individual development. They begin to understand 'life,' it's struggles, how they need to adapt, and knowing that this path will give them success not only in Cosmetology but also in their adult lives." In addition to earning their Virginia Board of Cosmetology licensure, students can also earn certifications in Pretty In a Minute Experience, Barbicide, and the Virginia Workplace Readiness Skills assessment.
For the 2020-2021 school year, the Cosmetology program will be offering an additional course in Salon Assisting.
Because CATEC's Cosmetology program has such an established reputation in the community, the program prides itself on its guest speaker series, where stylists from local salons speak with students about various industry topics. The Cosmetology program participates in many community activities, including volunteering at CATEC events, the annual Dogwood Festival, Samaritan's Purse, and the 275th Anniversary of Albemarle County. Each year, students have job shadowing opportunities where they can observe and sometimes assist in Charlottesville salons. Some Cosmetology students go on to work part-time jobs as shampoo assistants and receptionists while attending school full time. Last year, 100% of Cosmetology students participated in a work-based learning experience, ranging from job shadows, internships, mentorship and even part-time employment in salons.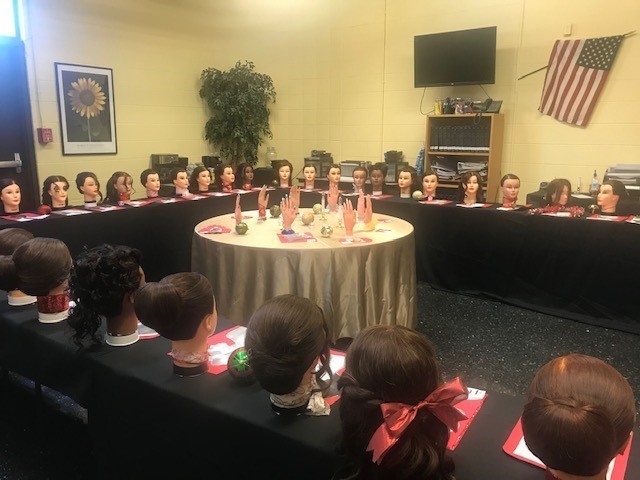 Once licensed in the state of Virginia, professionals are able to provide beauty services such as shampooing, cutting, coloring, and styling hair, applying makeup, dressing wigs, performing hair removal, and providing nail and skin care services. The projected job growth in Virginia for the Cosmetology industry shows an increase of 10%, with Virginia earning approximately $6,000 more per year than the national average.
The Cosmetology program devotes time assisting students with employment opportunities. Students participate in mock interview events in preparation for second-year real interview opportunities. The program hosts an interview event each spring that includes industry attire, resumes, interviews, and skills demonstrations. A diverse group of local employers are invited to the event to hire new staff for their salons. Last year, 16 Cosmetology graduates were hired and participated in CATEC's annual Signing Day event, signing employment commitments with local salons. Brown estimates that, to date, there are more than 500 CATEC Cosmetology graduates working locally in the industry. Two of them, Instructors Brown and Waller, are both graduates from the program!
When our world returns to normal and we desperately begin booking hair, skin, and nail appointments, people will be able to show their appreciation for all that their stylists do to make them feel good about themselves. And this summer, CATEC will have a new group of Cosmetology professionals eager to enter the profession.
Charlottesville Albemarle Technical Education Center (CATEC) is a regional technical education center that helps high school students and adults obtain the jobs they seek. Our centralized, unified career development program helps students develop strategic approaches to cultivating their careers. CATEC was founded in 1973 and serves students from both Albemarle County Schools and Charlottesville City Schools.
By: Amanda Jay