Willingness To Try New Things Leads Two-Time CATEC Student To VCU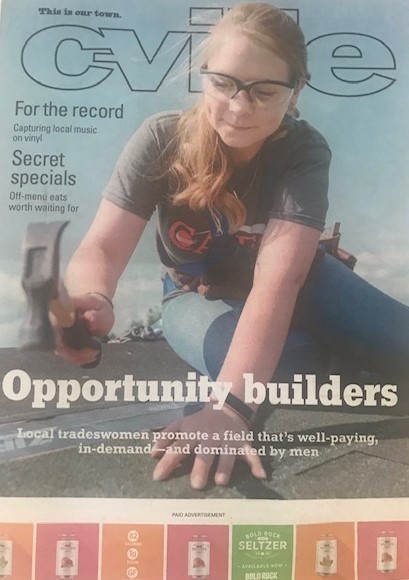 For Western Albemarle High School Senior Abigail Norton, a drive for adventure and a trip to the emergency room led to her discovering new career and volunteer opportunities. Norton is a two-time Charlottesville-Albemarle Technical Education Center (CATEC) student and one-time employee. Having participated in CATEC's Building Trades and EMT programs, she is leveraging the skills she developed over the last two years into forming her goals for the future.
Building Trades Class
In the spring of 2018, Norton signed up to study in the Building Trades class at CATEC. Tired of being in a traditional classroom setting, she says she was looking for something different in her classroom experience. She was drawn to CATEC because it was "mysterious" and she knew little about its programs. Norton says she chose the Building Trades class because "I have always been a 'do-it-myself' kind of person and this was the field I had the least amount of experience in." Thinking that the skilled trades were essentially masculine arts and crafts, she felt the drive to pursue something outside of her comfort zone.
Norton says, "There was the initial fear of going to a completely new school without knowing anyone there." One challenge she experienced in the class was that she was surrounded by other students who had grown up working in the skilled trades. She felt she was slightly disadvantaged because she was new to working with her hands. But she quickly realized her instructor, Sidney Trimmer, was encouraging. She felt warmly welcomed by all of CATEC's staff and her new classmates. Norton says one of the best takeaways she learned from the Building Trades class is learning how to take pride in her work. She says the class required her to apply herself in new ways, by working with her hands to create a satisfactory product. Outside of this class, Norton says this has encouraged her to always give projects and assignments her all, rather than just being "good enough." Trimmer says Norton "is incredible. She is always ready to take on any task and always did her best. She has a great personality and is always willing to help everyone." In her one-year Building Trades class, Norton earned 12 dual-enrollment college credits through Piedmont Virginia Community College (PVCC). Additionally, she earned her Occupational Safety and Health Administration (OSHA)- 10 certification and National Center for Construction Education and Research (NCCER) CORE certification.
PACE Camp Teaching Assistant
Her success in the Building Trades class led to a job opportunity in the summer of 2019. CATEC hosted a six-week summer camp for young people interested in the skilled trades. PACE Camp, based on an acronym for plumbing, heating and air conditioning, carpentry, and electrical, introduced students to different aspects of these industries. Norton worked with Trimmer as a teacher's assistant. Her favorite part of working at the summer camp was teaching students about carpentry. Norton says, "this was the first time after completing my class that I was able to practice my skills. I truly enjoyed sharing the excitement of construction with students and being able to be part of the CATEC community in a different way." CATEC Interim Apprenticeship and Adult Programs Manager Shannon Tomlin, who coordinated the PACE Camp, says Norton was a natural choice to work as the teacher's assistant because she "is a hard worker who was dedicated to learning all she could about Building Trades. Though construction is not in her long-term career goals, she understood the importance of being self-reliant and being able to rely on the skills she learned at CATEC, for the rest of her life."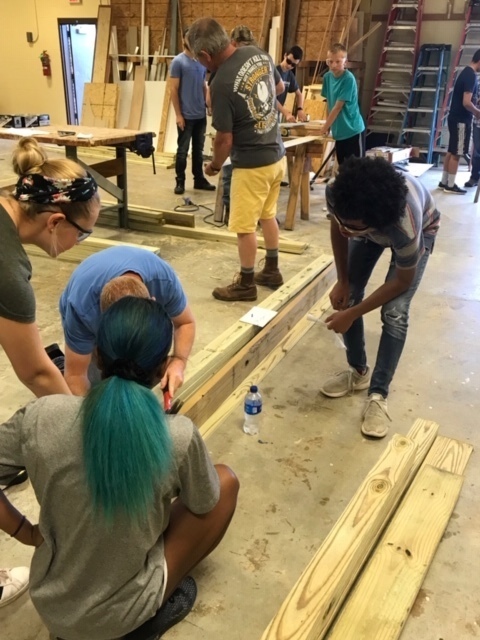 In 2019, a small injury in her Building Trades class led Norton to her interest in pursuing additional training at CATEC. Norton was working in her Building Trades class when she injured her thumb. It was her "fun experience" at the emergency room that she realized she also had a passion for science. She says, "I didn't want to leave the CATEC community, so I continued to pursue my newfound passion in the Emergency Medical Technician program."
EMT Class
In the 2019-2020 school year, Norton began studying in CATEC's EMT program, hosted at Western Albemarle High School. Instructor Catherine Gardner teaches CATEC's EMT class at Western Albemarle High School in the morning and at CATEC's main campus in the afternoon. The EMT program is part of CATEC's Healthcare and Medical Sciences Academy. Norton has been surprised about the amount of time she has dedicated to the EMT program. She says she spends many hours studying scenarios and materials for exams. She has completed 30 clinical hours, required as part of the EMT certification process, outside of school. Her clinical hours have taken place at the University of Virginia University Hospital's emergency room and area rescue squads. Norton says that while the coursework is challenging, she gets great satisfaction in providing for others on what is potentially the worst day of their lives. Norton says her favorite part of her EMT class is how its content overlaps with that of other classes she takes, including her Advance Placement Biology and Advance Placement Psychology classes. She says, "it is fascinating to know how to treat certain conditions, recognize symptoms, and understand the molecular basis for the whole process." Norton is now CPR and First Aid certified and earns an additional 12 dual-enrollment college credits through PVCC through CATEC's EMT program. In March, Norton competed in SkillsUSA District competitions at CATEC, finishing in third place in the EMT category. In April, she will sit for her National Registry Emergency Medical Technician certification. Gardner says Abby "learns skills quickly, and rather than just stopping practice once she's mastered something, she actively seeks to help her classmates hone their skills as well. She is truly invested not only in earning her own certification, but just as much of her effort is put into making sure the rest of her team is ready for their own certification test. Such selflessness is uncommon and amazing to see in a high school student."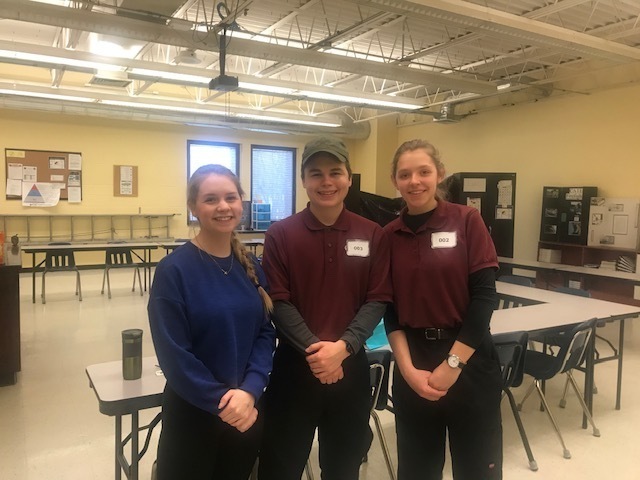 Norton will graduate from Western Albemarle High School and will graduate from CATEC for the second time in May 2020. In the fall, she will take her EMT skills, along with 24 college credits earned through CATEC, with her to Virginia Commonwealth University as a Pre-Heath Major. She hopes to attend its nursing program and will volunteer at an area Richmond rescue squad. She will continue using the skills she gained in CATEC's Building Trades program by volunteering with Habitat for Humanity. In ten years, Norton hopes to be a certified Bachelor of Science in Nursing, earning her Master's degree in emergency medicine or hopes to be working as a nurse practitioner.