CATEC Celebrates National School Choice Week
As students and their parents plan academic schedules for the 2020-2021 school year, Charlottesville-Albemarle Technical Education Center (CATEC) proudly promotes the idea of school choice. Tens of thousands of Americans are participating in events and activities across the United States for National School Choice Week this week. For 47 years, CATEC has been an essential academic option in our Charlottesville community.
When weighing school options, consider how CATEC benefits students and our community. CATEC helps high school students obtain the jobs they seek by offering: equitable opportunities for all students who will work in our community; work-based learning opportunities, including industry credentialing; and links to post-secondary learning experiences. For the 2020-2021 school year, CATEC will be offering 12 courses, including: Cosmetology, Salon Assisting, Culinary Arts, Computer Networking, Automotive Service Technology, Automotive Body Repair, Building Trades, Electrical, Veterinary Assistant, EMT, Fire Science, and Certified Nurse Aid. CATEC will be introducing embedded academic curriculum as well, decreasing barriers for attending.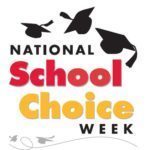 Built-In Value
CATEC provides built-in value. Students obtain work-based and project-based learning opportunities, workplace readiness training for a 21st century workforce, and industry-recognized certifications and credentials. In the 2018-2019 school year, 100% of our students received work-based learning experience, whether it was through field trips, guest speakers, internships, job shadows, Youth Registered Apprenticeships, or soft skills training. CATEC's career development lessons prepare students for the professionalism required for success in their careers of choice. Students understand important concepts such as work ethic, integrity, team work, and critical thinking. They practice writing emails for the workplace, completing written work orders, and communicating feedback and praise to co-workers. Their soft skills training culminates in industry-specific resumes and interview experiences. Last year, CATEC students earned 2,375 individual credits, credentials, certifications, and industry-recognized assessments. These industry-valued credentials not only prepare students for the workforce and make them more marketable to employers, it also saves them money. Dual-enrollment courses and industry tests are free to CATEC students.
Equitable Learning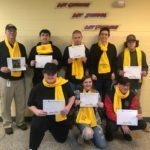 CATEC is equitable. Our diverse learning community offers access to industry training, professionalism, and credentialing to all students, preparing them for living-wage and growth-driven careers in our community. Reflecting Charlottesville's diverse population, CATEC allows all students from the City of Charlottesville Schools and Albemarle County Public Schools systems, as well as students from neighboring school districts and home-schooled students, opportunities for academic training in the industries of their choice. CATEC's programming mirrors Charlottesville's economic needs as well as students' interests. The 12 courses CATEC offers prepare students to earn income upon graduation, and sometimes during the school year while enrolled as students.
The Learning Journey
CATEC is an important step in a student's learning journey. A CATEC education links students' previous learning experiences to their life goals by providing quality and affordable learning opportunities. CATEC students enter our programs with varied academic and industry experiences. Using their prior knowledge and appreciating each student's path, CATEC's instructional, administrative, and support staff provide differentiated instruction guiding students to their best academic and career options. CATEC offers 8 classes that provide dual-enrollment opportunities for students, through Piedmont Virginia Community College, Reynolds Community College, Central Virginia Community College, and Blue Ridge Community College. In the 2018-2019 school year, 1,825 dual-enrolled credits were awarded to 161 CATEC students. These credits allow students to seamlessly matriculate into college coursework if they choose. With more than 88% of CTE students planning to continue their educations after graduation, students can begin their transitions to post-secondary learning while still in high school, saving them money on tuition. If students plan to enter their workforce directly upon graduation, CATEC's respected reputation in the Charlottesville community, along with its positive relationships with local employers, allows for unbroken transitions to employment. With many of its students entering the workforce directly, the 550 industry credentials and certifications awarded last year give students employment opportunities and marketability at a financial savings.
Additionally, CATEC offers Adult Education and Apprenticeship programming. This programming covers a wide range of technical education courses that help adults enhance current skills, gain new knowledge, and continue lifelong learning. CATEC's Registered Apprenticeship is approved by the Virginia Department of Labor and Industry and serves more than 200 apprenticeships sponsored by 55 local employers.
National School Choice Week is a nonpartisan, nonpolitical, independent public awareness effort. National School Choice Week spotlights the different K-12 education options available to students. School choice is the process of allowing every family to choose the educational options that best fit their children's needs, interests, and abilities. Each student has their own unique set of talents, interests, and challenges, so a variety of educational options is essential. School choice ensures that each student can find a learning environment that allows them to feel successful and happy. Nationwide events bring attention to the idea that every child deserves an effective, challenging, and motivating education.
If you are interested in exploring one of CATEC's program for the upcoming school year, please visit www.catec.org or call 434-973-4461 for more information. You can also visit us on Twitter @CATEChs or at our Facebook page.