Cosmetology Student Uses Knowledge For On-The-Job Training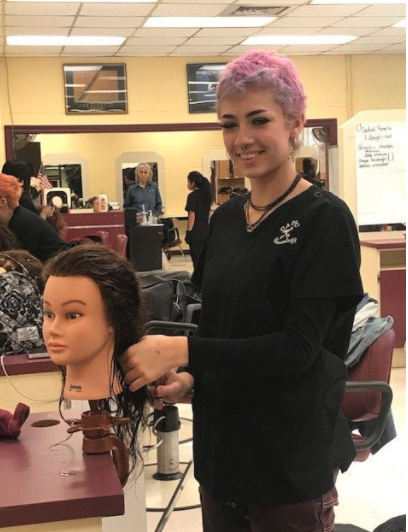 Charlottesville-Albemarle Technical Education Center (CATEC) second year Cosmetology student Skylar Carroll is bringing the skills she has learned at CATEC to her part-time job at a local hair salon. Carroll is an eleventh grader who has been excited to attend CATEC since she was in 8th grade. The Murray High School student says she has "always been interested in doing nails, makeup, and hair." After waiting for two years, she began her Cosmetology courses as a tenth grader and will graduate from the program as an eleventh grader. Her current Cosmetology Instructor, Jaqueline Waller, says Carroll is "able to take the knowledge she learns and can perform tasks well."
On-the-Job Training
Carroll has been working at Studio 3.6 Hair Salon on Greenbriar Drive for the last six months. She works as a receptionist four days a week after school and on weekends. She is responsible for answering phones, taking and stocking inventory, writing emails, and confirming appointments with clients. Additionally, on the weekends she works as a makeup artist, making wedding parties look and feel their best for their important day. Carroll hopes that as a senior in high school next year she will be able to continue working as a stylist in the afternoons, evenings, and weekends. She hopes to graduate from high school early.
Preparing for Her Future
At CATEC, Carroll has studied hair, skin, and nails. She has studied theory and practices procedures in the Cosmetology department's classroom and clinical lab settings. When she finishes CATEC's Cosmetology program she will have completed 840 hours of training. She has learned about safety and chemical processes related to permanent waves, relaxing, soft-curling, lightening, and coloring hair. The curriculum includes how to care for skin, hands, and feet and developing skills in performing facials, manicures, and pedicures. As a second-year Cosmetology student, she is continuing to build her skills as she prepares to take her Cosmetology State Board License in spring 2020.
Cosmetology Instructor Karen Brown, who has known Carroll for two years, says, "Skylar is always pushing for knowledge and striving to improve her skills, which will carry her far in the industry." With a projected job growth of 11% in Virginia, Carroll is well positioned to have a career in the Cosmetology industry that she has desired since middle school. Carroll has her mind set on achieving her goals. In five years she says she will still be successfully working in a salon.