CATEC Recognizes Its Career Development Offerings
Charlottesville-Albemarle Technical Education Center (CATEC) is proud to recognize its career development programming during November's National Career Development Month. CATEC makes career readiness a top priority for all 300 of its students by integrating workplace readiness opportunities throughout its 12 program areas. Along with their industry training, students work with Career Development Specialist Amanda Jay and Career Center Specialist Shannon Tomlin to gain additional professional experiences that prepare them for employment during high school or upon graduation. These career planning activities help develop employability skills, creating goals, engaging students in career exploration activities, and expanding their post-secondary opportunities.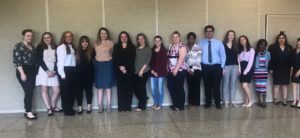 Workplace Readiness Skills
Jay works with students to help them develop habits-of-mind for beginning their careers and create strategies for a lifetime of working. Research shows that workers will have, on average, 17 jobs during the course of their careers. Millennials change jobs about every two years. As our work world changes, people should accept that changing and losing jobs is our "new normal." Research shows that recognizing the importance of soft skills predicts long-term life outcomes. Companies and hiring managers often rank employee's well-developed soft skills as the most desired traits in the workforce. CATEC recognizes that soft skills are better acquired with early practice, before students enter the workforce as adults. The classroom, group approach to teaching these soft skills require social interactions amongst students in a positive and accepting environment that promotes personal growth.
CATEC's Career Development program helps students spend time throughout the school year gaining insight into their personal interests, values, and goals to identify their work preferences to deal with this changing work environment. They recognize qualities employers want employees to possess in their industry and create personalized branding strategies to market themselves. Students create industry-specific resumes and cover letters and participate in industry-specific interview experiences. All students leave CATEC with professional skills to gain employment in their industries of choice. A recent graduate from the Cosmetology program said of her two opportunities to practice her interviewing skills, "I really like the mock interviews because it gets our feet wet without the 'consequences.' I really like how the interviewers give advice on what we did well and what we need to work on. I hope we continue to do these mock interviews."
Work-Based Learning
Tomlin organizes all student work-based learning experiences, including coordination of industry credentialing, guest speakers, field trips, internships, job shadows, and apprenticeships. Additionally, she coordinates all student participation in SkillsUSA competitions, with CATEC hosting this year's competition events. These opportunities create real-life experiences for CATEC's students. Last year, Tomlin arranged for CATEC students to receive 1825 college credits from local community colleges. She oversaw students earning 375 Virginia Department of Education-recognized industry credentials and organized additional industry credentialing in CPR and First Aid, ServSafe Food Handler and Fire Service certifications for students in select courses. Tomlin ensured that CATEC had 100 percent student participation in at least one work-based learning opportunities last year. She has arranged for 6 Youth Registered Apprentices and numerous job shadow and internship experiences this school year. CATEC Certified Nurse Aide Instructor Mary Lou Boyd says, "Shannon Tomlin is stellar at planning for and implementing opportunities for students to prepare for post-secondary employment. She does this by initiating and implementing opportunities to continue allowing students to excel at their trade through work-based learning experiences with our community partners. This in turn, often leads to full time employment."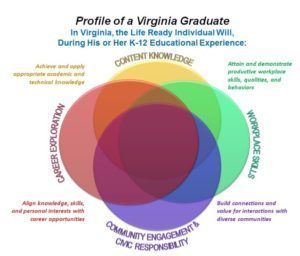 Profile of a Graduate
Efforts to ensure all CATEC students are prepared to enter the workforce align with The Profile of a Virginia Graduate's directive for students to receive "the knowledge, skills, experiences and attributes that students must attain to be successful in college and/or the work force and to be 'life ready.'" Half of The Profile of a Virginia Graduate's "life ready" requirement includes career exploration and workplace skills education. Career exploration aligns knowledge, skills, and personal interests with career opportunities. Workplace skills attain and demonstrate productive workplace skills, qualities, and behaviors.