CATEC Celebrates Its Culinary Arts Program
Thanksgiving Pie Fundraiser
Charlottesville-Albemarle Technical Education Center is celebrating its Culinary Arts program this month. CATEC's Culinary Arts program is working hard this holiday season so you don't have to. The program is preparing pumpkin and apple pies to help alleviate baking from people's hectic holiday schedules. Culinary Arts Instructor Chef Carol Robbs says the sale benefits community members but is also a valuable learning opportunity for students.Students hand picked apples at Carter Mountain Orchard and prepped the apples themselves for pie making.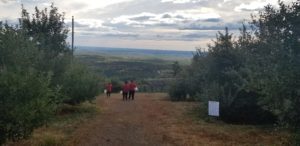 The CATEC Culinary Arts program is a two-year course that prepares students for work as chefs/cooks, bakers/pastry helpers, pastry decorators, dietic assistants, food demonstrators, and work in the hospitality industry. Students can earn up to 20 college credits through CATEC's dual-enrollment agreement with Piedmont Virginia Community College. Students graduate from the Culinary Arts program with many credentials, including ServSafe Food Handler and ServSafe Manager and CPR and First Aid.
Students Earn College Credits as They Cook
Students earning college credit study principles of Culinary Arts, sanitation and safety, nutrition for food science, preparations of stocks, soups, sauces, fruits, vegetables, and starches, and principles of baking. Students can easily transition to PVCC's Culinary Arts program. This post-secondary program blends professional and technical courses with hands-on training. The 67-credit program allows students to graduate with an Associate of Applied Science. Graduates will be able to enter the workforce as chefs, sous chefs, pastry chefs, or personal chefs in restaurants, hotels, resorts, or country clubs. Nationally, including Virginia, prospective students in the culinary industry can expect job growth.
In October, the CATEC Culinary Arts program received a grant from the Dominion Energy Charitable Foundation's Environmental Education Stewardship Grants Program. Culinary Arts will use the grant for its new learning space, CATEC Culinary Commons, a garden area that will include six raised garden beds, greenhouse, outdoor dining area, and indoor hydroponics garden. The organic produce grown in the gardens will be used by CATEC's Culinary Arts program.
Exciting Work-Based Learning Events
CATEC Director Stephanie Carter says "like our food bus, Technical Eats, Culinary Arts is the hub of an exciting interdisciplinary project." In 2017, the Culinary Arts program launched its school bus-turned-food bus project that allows students to prepare and serve food in a unique environment. Created as a schoolwide project, Technical Eats now travels to different community events around Charlottesville, including the TomTom Festival, Dogwood Festival, Albemarle County's 275th Anniversary celebration, and scheduled fundraising activities at Whole Foods.