It's National Apprenticeship Week! How CATEC Students Learn Through Apprenticeships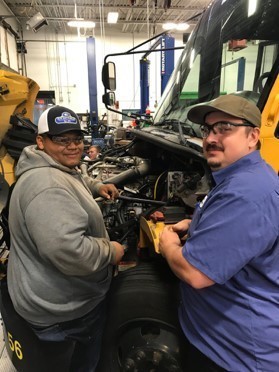 Charlottesville-Albemarle Technical Education Center (CATEC) is excited to highlight its adult and high school Apprenticeship programs during National Apprenticeship Week. Now in its fifth year, National Apprenticeship Week brings together businesses, communities, and educators to showcase opportunities available through apprenticeship programs.
CATEC's Apprenticeship programs consistently serves more than 200 apprentices each semester and the numbers are growing. Apprenticeship coursework covers a range of technical education courses. Apprenticeship and Adult Programs Coordinator Deborah Gannon says "the training courses help apprentices learn the theory behind the trade while also increasing their technical skills and providing opportunities for hand-on learning." The apprenticeship programs are approved by the Virginia Department of Labor and Industry and provide employer-sponsors and their employees with required related technical instruction hours needed to satisfy a full apprenticeship program. There are currently 55 local businesses that send apprentices to CATEC for instruction. The largest number of apprentices attending CATEC's Apprenticeship training courses are employed by the University of Virginia Facilities Management, Design Electric, Albemarle Heating and Air, Moore's Electrical and Mechanical, and Robertson Electric. In recent years 21 CATEC graduates have returned to continue learning through its adult Apprenticeship training courses.
Virginia Registered Apprenticeship Program
The Virginia Registered Apprenticeship program is an employment training model that produces highly skilled workers to meet the demands of local employers. Through a combination of on-the-job training, work-based instruction, and industry-recognized credentials, the program meets the needs of nearly 2,000 Virginia employers using custom curriculum to train their workforce. Registered Apprentices complete a minimum of 2,000 hours of supervised on-the-job training and a minimum of 144 hours of related technical instruction for each year of apprenticeship, averaging four years. Successful completion of the Registered Apprenticeship Program earns the apprentice nationally recognized state certification as a Journeyperson. All apprentices are registered through the Department of Labor and Industry apprenticeship consultant.
Registered Apprenticeships are also available to high school juniors and seniors. CATEC currently has six students working as Youth Registered Apprentices, including four from its Electrical program, one in Carpentry, and one in the Auto Service Technology program. Additionally, CATEC has two high school Electrical students who, as 18-year-olds, are Registered Apprentices. Youth Registered Apprenticeships integrate school-based and work-based learning to help students gain employability and industry-specific skills. Students are enrolled in career and technical education classes and regular high school classes. Additionally, they are hired as registered apprentices and complete work-based learning experiences through their local employer. Businesses, workforce professionals, and educators see Youth Registered Apprenticeships as an effective way to start high school students on a career path that leads to good wages and advancement opportunities.
Helping Bridge Businesses' Needs
High School Data Career Coordinator Shannon Tomlin says "our skilled trades industries are facing a severe worker shortage. The Youth Registered Apprenticeship program bridges the needs of our current business partners and our future workforce." According to the Department of Labor, after apprenticeship completion, 94% of employees retain employment. Since January 2017, there have been more than 583,000 new apprenticeships.