UVA Historical Mason Fondly Remembers CATEC Education
CATEC Masonry alumna Daisy Maine knew in seventh grade that she wanted to learn a trade. Recognizing early on that college was something she would not pursue, she understood that if she worked really hard to learn a skilled trade, she would be successful. In 2007, Daisy began studying in Charlottesville-Albemarle Technical Education Center's (CATEC) Masonry program.
She says of her CATEC masonry training: "I truly enjoyed every moment and can never forget the wonderful friends and amazing support system I gained by being there that led me to where I am now." Daisy fondly remembers her now-retired Masonry teacher Jesse Mills. She says, "Mr. Mills was the best. He was one of a kind and always knew what to say and how to teach every individual." Mills remembers Daisy as a student who "was always eager and determined. She wanted to learn all that she could."
Putting Her CATEC Masonry Training to Work
Upon high school graduation, Daisy says with her three years of CATEC training, she had enough experience and interest in the masonry field to easily enter the workforce. She remembers that current Apprenticeship and Adult Programs Coordinator Deborah Gannon, who in 2009 was CATEC's Career and Instructional Technology Coordinator, "never gave up on helping me overcome life's obstacles and was very persistent in helping me find a job. She was the one who found my first job opening at the University of Virginia. I never would have applied if it wasn't for her persistence."
Gannon has known Daisy for 12 years and says, "she is a strong woman, not only physically, but mentally and emotionally as well. She ventured into a non-traditional career field while still in high school and excelled in that field."
Daisy's first job at UVA was as a Masonry, Plastering, and Drywall Apprentice. As an Apprentice through UVA's Facilities Management department, she apprenticed for four year, studying masonry and plastering. She worked as a full-time University employee with salary and benefits while she gained on-the-job training with licensed journeymen, mentors, and supervisors and received classroom training.
Repairing Historic Buildings on "The Lawn"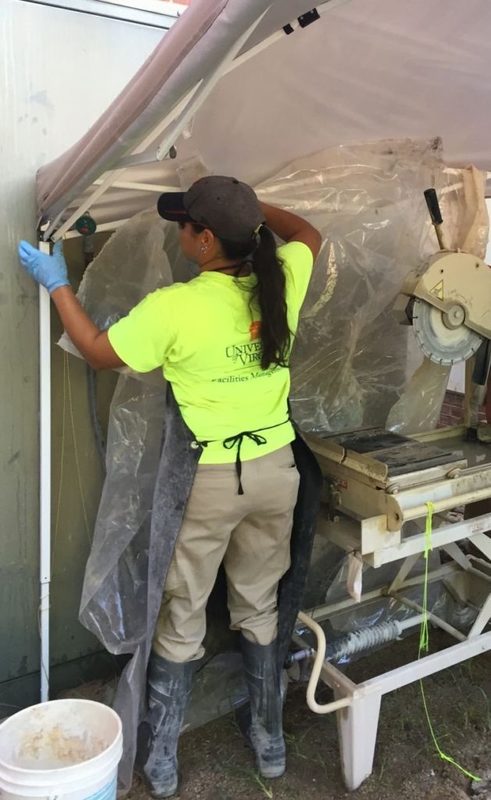 Upon completion of her apprenticeship, she has continued working at UVA's Facilities Management, first as a mason for two years and then as an Historic Mason. She says, "Every day at UVA is cool. I work with a small group of knowledgeable individuals." Working as a team of seven, they repair 200-year-old brick, lime mortar and plaster around Thomas Jefferson's Academical Village. UVA's "The Lawn," part of the Academical Village, is designated a United States National Historic Landmark District and is part of UNESCO World Heritage Site because of its architectural and cultural significance. She has also worked on masonry projects at UVA's Scott Stadium. Daisy says an exciting part of this work is discovering and documenting "things most never will see and learning new things every day."
As Daisy settles comfortably into her career, she has been able to translate her unique position as a woman in a male-dominated industry into advocating for other young women interested in entering the skilled trades. The Institute for Women's Policy Research reports a 17 percent increase in women working in construction, the highest percentage the industry has seen in 20 years.
Daisy says, "I am a strong supporter for women in the trades. There aren't enough in it today. But I know young women will see that construction trades are not just for men and we can do it too." Daisy uses the positive mentorship she experienced herself to advocate for women entering the trades. She says, "I met some of the most influential and supportive people in my life at CATEC. It was the staff that cared and helped every student as much as they could."