It's National Veterinary Technician Week: Meet Our Newest Program
CATEC is excited to be celebrating its newest program for National Veterinary Technician Week! CATEC's Veterinary Assistant program is a natural step for students interested in becoming veterinary technicians. CATEC's Veterinary Assistant class introduces students to the technical knowledge and skills necessary for success in careers pertaining to animals. This includes pet care industries, government agencies, laboratory research institutions, pharmaceutical occupations, veterinary medical assisting and technology, and postsecondary education. Students learn about veterinary science in a classroom setting, simulated small animal veterinary hospital, and on-site visits.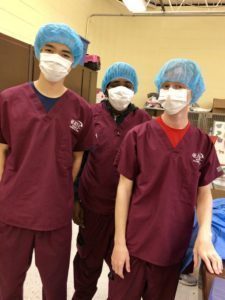 Last year, students took a field trip to the Richmond Zoo so they could study the ethics of zoos and their wildlife programs. The class also visited Open Gate Farm to interact with chickens, turkeys, pigs, goats, and rabbits and students studied the farm's heritage pork operation. Many animals also made guest appearances in the classroom, including a pigeon, family dogs, and pet goats.
Veterinary Assistant students receive 12 college credits through Blue Ridge Community College. Credits include coursework in veterinary assisting, care and maintenance of small domestic animals, veterinary office assisting, and companion animal behavior. Students who satisfactorily complete the program also receive the Blue Ridge Community College Career Studies Certificate in Veterinary Assisting concurrent with high school graduation. CATEC also supports student students as they take the Certified Veterinary Assistant test through American Allied Health. For the 2018-2019 school year, CATEC had a 93% pass rate.
Upon graduation from the program, students can enter the industry as a Veterinary Assistant, assisting vets by setting up equipment, preparing animals for treatment, and keeping records. Projected job growth in Virginia for Veterinary Assistants is nearly 20% and Virginia wages align with the national wage average. Several students who graduated from the program last year are working in area veterinary clinics. Two alumni are working as Laboratory Animal Care Technicians for The McConnell Group, a company that supports media research for human and veterinary health and contracts with a UVA research lab.