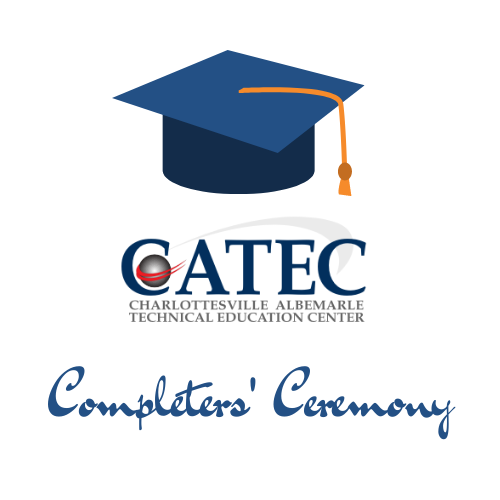 2022 COMPLETER CEREMONY
CATEC celebrated 148 completing students' achievements at its Completer Ceremony on May 31 at the Martin Luther King Jr. Performing Arts Center. Students from eight CATEC high school programs, representing six local high schools, walked across the graduation stage at 7:00 pm.
The event's keynote speaker was Emily Peliccia, Deputy Chief of Emergency Preparedness for the Charlottesville Fire Department and CATEC Foundation Board Member. Student speakers were Veterinary Science student Dessa Williams, from Monticello High School, and Cosmetology student Nyonnika Carter, from Charlottesville High School. Albemarle County Public Schools' Superintendent Dr. Matthew Haas and Charlottesville City Schools' Superintendent Dr. Royal Gurley will also spoke at the ceremony. CATEC Center Board Vice Chair Ellen Osborne delivered welcome remarks.
VIEWING CEREMONY IN ITS ENTIRETY
Click here to view the Completers' Ceremony in its entirety. Click here to view the welcoming slideshow.
DAILY PROGRESS GRADUATION INSERT
To view CATEC's graduation insert in the Daily Progress, select the following: