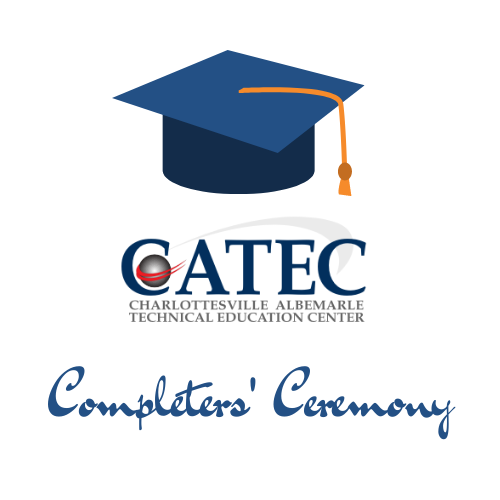 Charlottesville-Albemarle Technical Education Center (CATEC) will celebrate graduating students' achievements and their career choices during its week-long Completers' Ceremony held May 24-27 in the CATEC auditorium.
This week-long event replaces CATEC's traditional schoolwide graduation ceremony. Each day students are in the CATEC building this week, completers will receive their certificates in class-only celebrations. Students being awarded CATEC scholarships will be celebrated during this time as well. The scaled-down event will allow administrators, instructors, and students to recognize each program and its successes this year while maintaining traditions that include graduation gowns, formal programs, and professional photographs. Director Stephanie Carter says, "This school year has been a challenging one for all of our CATEC community. We are delighted to be able to celebrate our successes and look beyond our current circumstances to a bright future for all our students."
Upon finishing their program's ceremony, seniors will head to the Career and Counseling Center to participate in Career Declaration Week. In collaboration with the Central Virginia Apprenticeship Council (CVAC) and Albemarle County Public Schools, CATEC seniors will declare their career fields on paper megaphones to show the career opportunities that exist upon graduation from CATEC. CVAC strives to assist employers in establishing and maintaining their registered apprenticeship program to continue building a pipeline of qualified workers. Their event sponsorship reflects our community's commitment to providing real-world work-based learning opportunities.
CATEC's Completers' Ceremony, in its entirety, will be available to view on CATEC's YouTube page on June 2 at 7 pm. The entire ceremony will include professional student photographs, a year-in-review slide show, student speeches from Hunter Rose (Fire Science '21 and Emergency Medical Technician '20) and Guadalupe Monroy-Flores (Cosmetology '21), and a keynote speech from Laura Duckworth, Director of Occupational Programs for University of Virginia's Facilities Management. Duckworth also serves on the Charlottesville-Albemarle Technician Education Foundation Board (CATEF).
VIEWING CEREMONY IN ITS ENTIRETY
Click here to view the Completers' Ceremony in its entirety.
COMPLETERS' CEREMONY PROGRAM
Click here to view the Ceremony program.
DAILY PROGRESS GRADUATION INSERT
Click here to view CATEC's graduation insert in the Daily Progress.