EDIT MAIN
Veterinary Science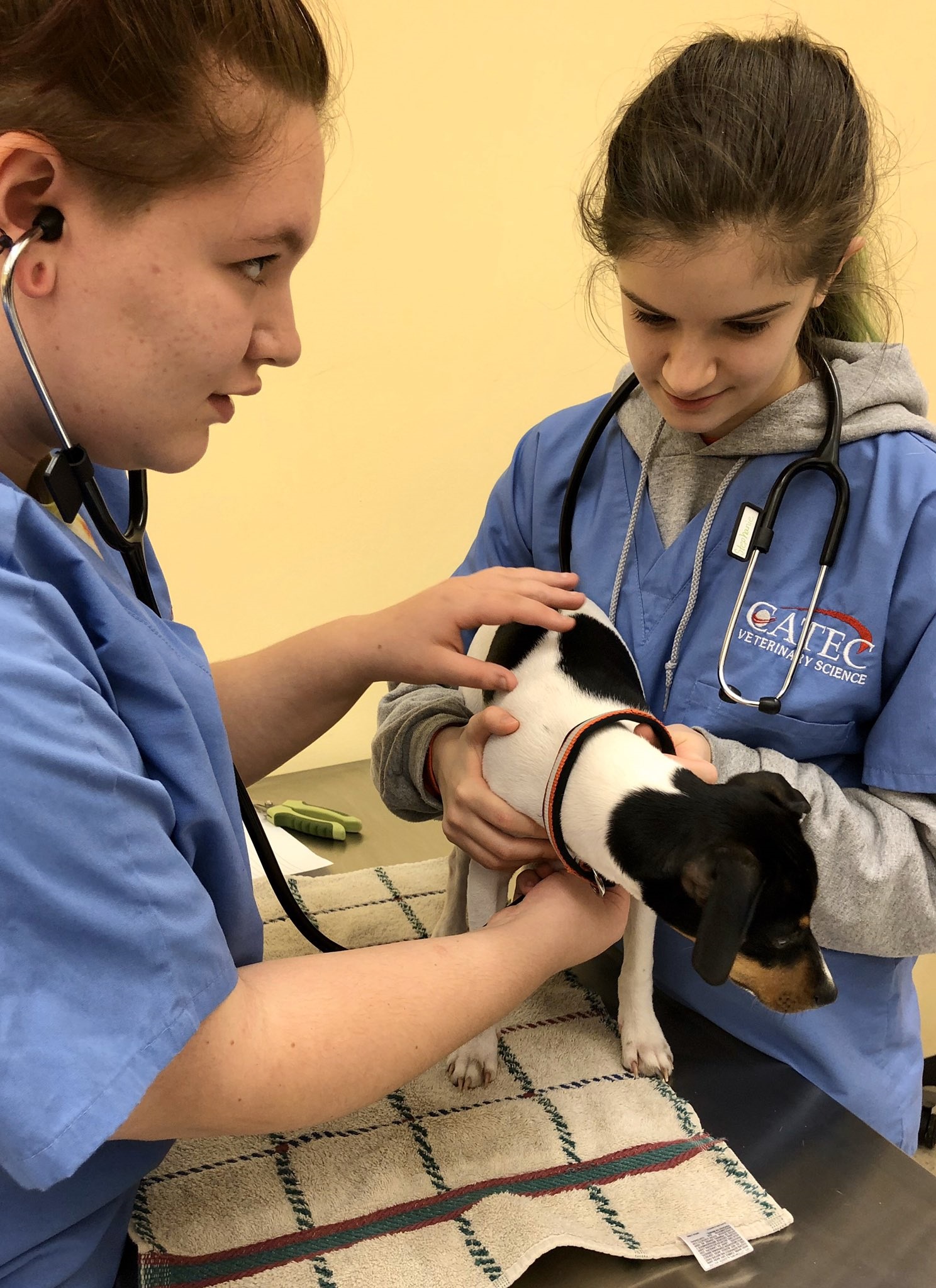 In CATEC's Veterinary Science program, students learn hands-on training in small animal care in a variety of classroom settings, including its simulated small animal veterinary hospital and on-site visits. The course introduces students to the technical knowledge and skills necessary to be successful in careers pertaining to companion animals, including, but not limited to, pet care industries, government agencies, laboratory research institutions, pharmaceutical occupations and veterinary medical assisting and technology, and post-secondary education opportunities. Additionally, the program includes guest speakers, animal demonstrations, and field trips to small animal care facilities. Students will also learn workplace readiness and leadership skills to further them on their pathway to success. The Veterinary Science program is part of CATEC's Health and Medical Sciences Academy.
COURSES, CREDIT, AND CERTIFICATIONS
High School Credit
Students receive up to 3 high school credits total each year for successful completion of the program. Passage of the certification exam will award the student 2 student-verified elective credits, one of which can be substituted for a verified credit in either science or history. 1 additional science credit is awarded due to the integration of the Biology II: Anatomy & Physiology standards of learning in the coursework.
Certifications
American Allied Health Veterinary Assistant Certification
Virginia Workplace Readiness Skills Assessment
Dual Enrollment credit
The Veterinary Science program is dual-enrolled with Blue Ridge Community College. Dual-enrolled students who satisfactorily compete the program with a C or better will also complete the Blue Ridge Community College Career Studies Certificate in Veterinary Assisting concurrent with high school graduation. Students successfully completing the program may receive 12 college credits.
| College Course Codes | College Course Name | Credit Per Course | College |
| --- | --- | --- | --- |
| VET 101 | Introduction to Veterinary Assisting | 3 | BRCC |
| VET 102 | Care and Maintenance of Small Domestic Animals | 3 | BRCC |
| VET 103 | Veterinary Office Assisting | 3 | BRCC |
| VET 136 | Companion Animal Behavior | 3 | BRCC |
Education Pathways
Blue Ridge Community College
Veterinary Technician, A.A.S.
Virginia-Maryland College of Veterinary Medicine
Doctor of Veterinary Medicine, DVM
Biomedical and Veterinary Sciences, MS or PhD
Master of Public Health, MPH
CAREER PATHWAYs
Career Opportunity: Veterinary Assistant
Assist vet, set up equipment, prepare animal for treatment, and keep records.
National Wage Average: $25,250.00
Virginia Wage Average: $25,270.00
Projected Job Growth in Virginia: +19.6%
Career Opportunity: Veterinary Technician
Perform medical tests for treatment and diagnosis of diseases in animals. Prepare vaccines and serums. Clean and sterilize instruments and materials. May assist vet during surgery.
National Wage Average: $34,000.00
Virginia Wage Average: $38,000.00
Projected Job Growth in Virginia: +30%
Career Opportunity: Veterinarian
Diagnose, treat, or research diseases and injuries of animals. Can include conducting research and development, inspecting livestock, or caring for pets and companion animals.
National Wage Average: $94,000.00
Virginia Wage Average: $98,000.00
Projected Job Growth in Virginia: +29%