EDIT MAIN
FIRE SCIENCE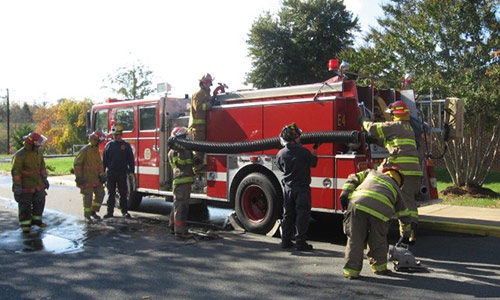 CATEC's Fire Science program introduces students to the equipment and procedures necessary to fight live fires, operate in hazardous materials incidents, and conduct search-and-rescue operations. Students react to multi-faceted situations such as accidents, natural disasters, and simulated terrorism as part of an emergency response team. They become familiar with emerging technologies like communications dispatch, geographic information systems mapping, incident reporting, and simulation programs. They also study multimedia inputs, thermal imaging, cameras, and hazardous gas detectors.
Additionally, students gain valuable workplace skills necessary to become successful firefighters, including teamwork, critical thinking, public service, research, report writing, and incident management skills. This course challenges students academically, mentally, and physically.
---
COURSES, CREDIT AND CERTIFICATIONS
HIGH SCHOOL CREDIT
Students receive up to 3 high school elective credits each year for successful completion of the program. Passage of the certification exam will award the student 2 student-verified elective credits, one of which can be substituted for a verified credit in either science or history.
CERTIFICATIONS
Virginia Department of Fire Programs Firefighter I and II
American Red Cross Basic Life Support for Healthcare Providers
Virginia Workplace Readiness Skills Assessment
CREDENTIALS
VDFP Firefighter I
VDFP Firefighter II
VDFP Hazardous Materials Operations
American Red Cross Basic Life Support for Healthcare Providers
VDFP Agency Overview
VDFP Active Gun Shooter for First Responders
VDFP Introduction to Technical Rescue
Highway Safety During Incidents for First Responders
FEM 100 – Introduction to Incident Command
FEMA 200 – ICS for Single Response and Initial Action Incidents
FEMA 700 – National Incident Management System
FEMA 800 – Nation Response Framework an Introduction
Weapons of Mass Destruction through Texas A & M
Responding to Vehicle fires
Bloodbourne Pathogen – Required by Albemarle County to be a Volunteer
DUAL ENROLLMENT CREDIT
The Fire Service program is dual-enrolled with Central Virginia Community College and Piedmont Virginia Community College. Students successfully completing the program will receive 14 college credits towards an Associates Degree in Fire Science Technology.
Class
State Code
Duration
Grades
Dual Enrollment
Credential(s)
AM or PM
Firefighting I & II
8705
8706
1 year
Age 16 or older by start of school
CVCC – 12 creditsPVCC – 2 credits
Please See Below*
AM Only
Students successfully completing the Fire Science program may receive college credit for the courses listed below.
| College Course Codes | College Course Name | Credit Per Course | College |
| --- | --- | --- | --- |
| FST110 | Fire Behavior & Combustion | 3 | CVCC |
| FST115 | Fire Prevention | 3 | CVCC |
| FST235 | Strategy and Tactics | 3 | CVCC |
| FST121 | Principle of Fire & Emergency Services | 3 | CVCC |
| HLT100 | First Aid/CPR | 2 | PVCC |
EDUCATION PATHWAYS
Germanna Community College
Fire Science Technology, A.A.S.
Fire Science Technology (Certificate)
Piedmont Virginia Community College
EMS-Advanced
EMS-Intermediate
EMS-Paramedic (Career Studies Certificate)
Virginia Commonwealth University
Homeland Security & Emergency Preparedness, B.A.
CAREER PATHWAYS
Career Opportunity: Firefighter
Control and extinguish fires or respond to emergency situations where life, property, or the environment is at risk. Duties may include fire prevention, emergency medical service, hazardous material response, search and rescue, and disaster
National Wage Average: $45,970.00
Virginia Wage Average: $44,700.00
Projected Job Growth in Virginia: +14.1%
Career Opportunity: Arson Investigators

Collects evidence, eyewitness accounts & other information to determine what might have caused the fire; furthermore, who might be responsible.
National Wage Average: $56,730.00
Virginia Wage Average: $54,890.00
Projected Job Growth in Virginia: +1%
Career Opportunity: Forestry Fire Prevention Specialists
Work in the forest inspecting for potential fire hazards, enforcing fire regulations; such as, appropriate permits or "burn times" & instituting control measures when it appears a fire is eminent.
National Wage Average: $40,000.00
Projected Job Growth Nationally: +29%