EDIT MAIN
ELECTRICITY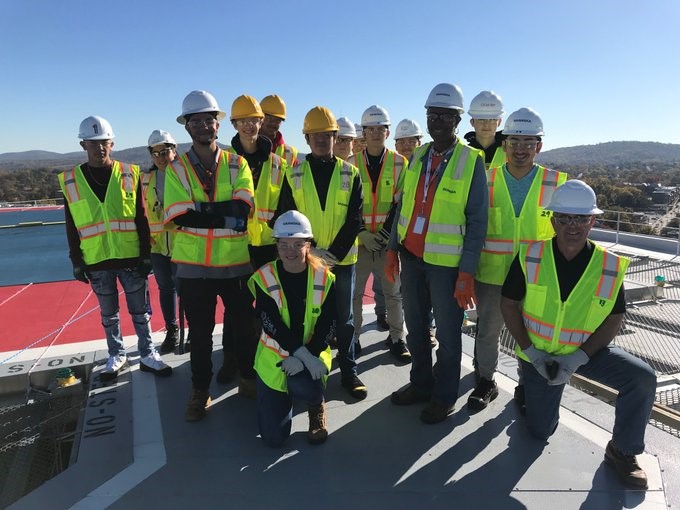 CATEC's Electricity program provides students opportunities to explore all areas of the industry, developing skills to install, operate, maintain, and repair residential, commercial, and industrial electrical systems. Students study electrical theory and complex mathematical and physics problems related to industry. They navigate the National Electrical Code (NEC) Book, select and install conductors, examine lighting, communication, and power systems, and work with conduit and raceways, panel boards, switchboards, and generators. Students can earn one year of related technical instruction (RTI) towards an apprenticeship program.
COURSES, CREDIT AND CERTIFICATIONS
HIGH SCHOOL CREDIT
Students receive up to 3 high school elective credits each year for successful completion of the program. Passage of the certification exam will award the student 2 student-verified elective credits, one of which can be substituted for a verified credit in either science or history.
CERTIFICATIONS
National Center for Construction Education and Research (NCCER core) Level 1 Electricity
Occupational Safety and Health Administrations, 10 hour (OSHA-10)
Virginia Workplace Readiness Skills Assessment
DUAL ENROLLMENT CREDIT
The Electricity program is dual-enrolled with Piedmont Virginia Community College. Students successfully completing this one year program will receive 9 college credits.
| Class | State Code | Duration | Grades | Dual Enrollment | Credential(s) | AM or PM |
| --- | --- | --- | --- | --- | --- | --- |
| Electrical I & II | 8533, 8534 | 1 year | 11-12 | PVCC- 9 Credits | NCCER, OSHA10 | PM Only |
Students successfully completing the program receive credit for the following PVCC courses.
| College Course Codes | College Course Name | Credit Per Course | College |
| --- | --- | --- | --- |
| ETR113 | DC & AC Fundamentals I | 4 | PVCC |
| ETR114 | DC & AC Fundamentals II | 4 | PVCC |
| SAF130 | Industrial Safety OSHA-10 | 1 | PVCC |
EDUCATION PATHWAYS
Germanna Community College
Technical Studies Industrial Maintenance, A.I.T.
Piedmont Virginia Community College
Manufacturing Technology (Career Studies Certificate)
James Madison University
Old Dominion University
General Engineering, B.S.
University of Virginia
Architectural Design, B.S.
Multi-Disciplinary Architectural Studies, B.S.
Urban & Environmental Planning, B.A.E.P.
Virginia Tech
Landscape Architecture, Bachelor
Construction Science, Bachelor
Building Construction B.S.
Industrial Design, B.S.
Landscape Architecture, L.A.R.
Industrial & Systems Engineering, I.S.E.
Materials Science & Engineering, M.S.E.
CAREER PATHWAYS
Career Opportunity: Construction Worker
Work on framing, carpentry, electrical, and plumbing jobs.
National Wage Average: $47,000.00
Virginia Wage Average: $42,000.00
Projected Job Growth in Virginia: +21.2%
Career Opportunity: Electrician
Install, maintain, and repair electrical wiring, equipment, and fixtures. Ensure that work is in accordance with relevant codes. May install or service street lights, intercom systems, or electrical control systems.
National Wage Average: $55,000.00
Virginia Wage Average: $49,000.00
Projected Job Growth in Virginia: +6%
Career Opportunity: Architectural Designer & Drafter
Prepare detailed drawings of architectural & structural features of buildings & topographical relief maps used in civil engineering projects such as highway, bridges, & public works. They use knowledge of building materials, engineering practice & mathematics to complete drawings.
National Wage Average: $53,470.00
Virginia Wage Average: $50,950.00
Projected Job Growth in Virginia: +7%