EDIT MAIN
COSMETOLOGY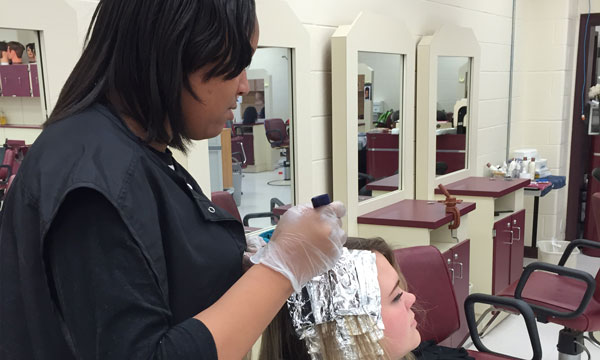 In CATEC's two-year Cosmetology program, students study hair, skin, nails, and their related care. The curriculum is grounded in theory that prepares students to practice procedures in clinical lab and classroom settings. Students use mannequins for manipulative skill practice, training in safety and chemical processes related to permanent waves, relaxing, soft-curling, lightening, and hair color. Students learn to care for skin, hands, and feet, developing expertise in providing facials, manicures, and pedicures. Competency completions prepare the student for the Virginia state-licensing exam.
---
COURSES, CREDIT AND CERTIFICATIONS
HIGH SCHOOL CREDIT
Students receive up to 3 high school elective credits each year for successful completion of the program. Passage of the certification exam will award the student 2 student-verified elective credits, one of which can be substituted for a verified credit in either science or history.
CERTIFICATIONS
Virginia Board of Cosmetology licensure examination
Virginia Workplace Readiness Skills Assessment
| | | | | | | |
| --- | --- | --- | --- | --- | --- | --- |
| Class | State Code | Duration | Grades | Dual Enrollment | Credential(s) | AM or PM |
| Cosmetology I | 8527 | 1 year | 10-12 | - | - | AM PM |
| Cosmetology II | 8528 | 1 year | 10-12 | - | State Cosmetology License | AM PM |
EDUCATION PATHWAYS:
Institute of Advanced Medical Esthetics
CAREER PATHWAYS
Career Opportunity: Hairdresser, Stylist, Cosmetologist

Provide beauty services, such as shampooing, cutting, coloring, and styling hair, and massaging and treating scalp. May apply makeup, dress wigs, perform hair removal, and provide nail and skin care services.
National Wage Average: $23,120.00
Virginia Wage Average: $29,230.00
Projected Job Growth in Virginia: +10.9%
Career Opportunity: Manicurist, Pedicurist
Clean and sanitize tools and work environment. Advise clients on nail care and use of products. Maintain supply inventories and client services. Treat nails and skin, shape nails and apply color and details.
National Wage Average: $24,000..00
Virginia Wage Average: $22,000.00
Projected Job Growth in Virginia: +11%
Career Opportunity: Skincare Specialist
Provide skincare treatments to face and body to enhance an individual's appearance. Includes electrologists and laser hair removal specialists.
National Wage Average: $31,000..00
Virginia Wage Average: $33,000.00
Projected Job Growth in Virginia: +12%