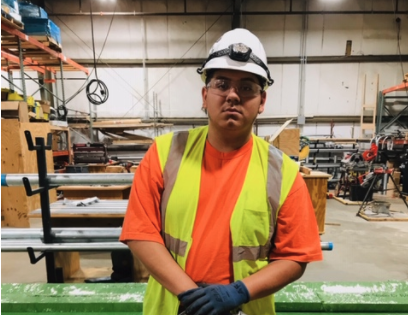 CATEC Registered Apprenticeship Student Example Of Success In The Skilled Trades
Amanda Jay
Monday, March 23, 2020
CATEC Registered Apprenticeship Student Example Of Success In The Skilled Trades
Charlottesville-Albemarle Technical Education Center (CATEC) Second Year Electrical Apprentice Adrian Rosas is taking advantage of all career opportunities CATEC has to offer in the skilled trades. Rosas was a 2017-2018 Building Trades student who knew he had a passion for electrical work, having worked in the construction industry with his family. Building Trades and Electrical Instructor Sidney Trimmer says Rosas "told me the day he showed up for Building Trades he wanted to be an electrician." Rosas was able to parlay his passion for electrical work into a Youth Registered Apprenticeship and has returned to CATEC for two more years as an electrical student. He is currently enrolled as an Electrical III student and works for Design Electric in its Prefab department.
Award-Winning Student
Rosas received college credit from Piedmont Virginia Community College while enrolled in the Building Trades program. During this time, he competed in SkillsUSA competitions and obtained his OSHA-10 certification. He studied the National Center for Construction Education and Research (NCCER) Core Curriculum, a program secondary career and technical education students take that cover topics related to safety, communication, and construction drawing, and earned the NCCER CORE credential. Success in this program affords students basic skills to continue their education in the skilled trades. Specifically, for Rosas, his NCCER training counts towards his Apprenticeship related technical instruction.
In the spring of 2018, Rosas was encouraged take part in Design Electric's "Boot Camp." This event exposed CATEC Building Trades and Electrical students, as well as community adults, to various skills and professional qualities needed to be successful in the Electrical field. Students who attended learned a particular skill and then had to perform a task related to that skill. Attendees were required to show proficiency in reading a tape measure and knowledge in safety protocols. Select attendees were offered employment with Design Electric and would have the opportunity to be Registered Apprentices. Design Electric is a growing electrical contractor specializing in large projects in central and western Virginia. Design Electric's Casey Carwile says "having skilled electrical workers is vital to the bottom line in providing our customers with good, quality commercial electrical installations. Producing great, quality workers is what we do at Design Electric."
Becoming a Youth Registered Apprentice
Rosas was selected to be a Youth Registered Apprentice with Design Electric. Rosas says "I am very honored to have had the help from Mr. Trimmer, Mrs. Tomlin, and Mrs. Jay at CATEC. They really helped push me into a direction of the Apprenticeship program. Seeing how far I have come really amazes me." Trimmer says Rosas was a good candidate for the program because he "doesn't mind working hard." Design Electric's Carwile says Rosas has a "good work ethic, willingness to learn, and is teachable. Adrian is willing to try new things, is a good team player, and prides himself on providing quality electrical components." In May 2019, Rosas and Design Electric participated in the SkillsUSA and Klein Tools National Signing Day. CATEC was selected as a hosting school to celebrate skilled trades students' commitment to apprentice for local employers.
Working as a Youth Registered Apprentice requires a lot of commitment and hard work. But, Rosas approaches it as "hard work does pay off!" Three days a week he works 10-hour days at Design Electric. Two days a week he rises at 6:00 am and works for Design Electric until noon each day. In the afternoon, Rosas attends Monticello High School for his required academic classes. Then once a week for three hours, he takes Adult Education Electrical courses at CATEC. He receives high school credit for attending CATEC during his work day also gets paid for his work at Design Electric; a true "earn as you learn" model of instruction. Of all of this commitment, Rosas says "attending work, high school, and night classes for my Journeyman license can be a lot for someone, but I think about it as this is my goal and my future and something I look forward to doing."
Getting on the Job Training
As a Youth Registered Apprentice, Rosas's work experiences consist of on-the-job training, including 8,000 hours required for Electricians, and 144 hours per year of related technical skills instruction. Youth Registered Apprenticeships provide valuable work-based learning opportunities for youth with academic and workplace curriculum that leads to post-secondary education options and careers. Businesses, workforce professionals, and educators see Youth Registered Apprenticeships as an effective way to start high school students on a career path that leads to good wages and advancement opportunities. Carwile says the Apprenticeship program helps Design Electric because the company is "able to get a head start on training quality electricians that will be good installers of commercial electrical components."
A Licensed Electrician at Age 20
Carwile believes Rosas's time at CATEC helped him transition to his apprenticeship experience easily because "CATEC and Design Electric work well together. CATEC is a good community partner because it takes students interested in the skilled trades and gives them a path to that job." When Rosas graduates from high school in 2020, he will only have two years remaining until he is able to take his Journeyman exam to become a licensed electrician, a remarkable feat for a 20-year-old to accomplish. Rosas appreciates his time at CATEC saying it "is a great learning experience. It prepared me with skills to use out in the work field. It also offered a learning experience I couldn't get at my base school. I got the opportunity to learn something that I was interested in making a career out of."