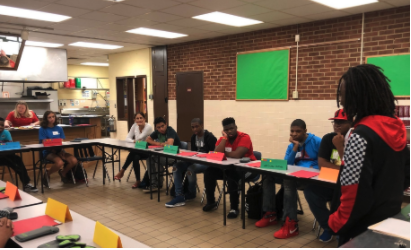 How To Get The Most Out Of High School? Culinary Arts Students Ask This Recent CATEC Grad
Amanda Jay
Monday, March 23, 2020
How To Get The Most Out Of High School? Culinary Arts Students Ask This Recent CATEC Grad
Recent Charlottesville-Albemarle Technical Education Center (CATEC) Culinary Arts graduate Tyquan Alston visited its Culinary Arts I program last week to talk about the opportunities CATEC afforded him. Alston returned to CATEC to speak with new Culinary Arts students about taking advantage of every possible learning moment offered to them. As a May graduate, Alston spoke to students from the perspective of someone who had just recently been in the same position. He urged new students to brush off negative attitudes or preconceptions they may have.
He reflected on his relationship with lead instructor, Chef Carol Robbs, and said "when I started to pay attention, I realized how much I had to learn." Chef Robbs says that she is very "proud of Tyquan. I could see the growth and maturity in him. I can see he found his humility and reflects on his time at CATEC very positively."
Transferring to PVCC's Culinary Arts Program
At CATEC, Alston became CPR, First Aid, and ServSafe Manager-certified. The ServSafe program is developed by the National Restaurant Association with the help of the foodservice industry to help define food safety best practices. He received dual-enrollment credit through Piedmont Virginia Community College (PVCC), which allowed him to transfer seamlessly to PVCC's Culinary Arts Program.
In late August, Alston began studying under Chef Eric Brekoff in the program that blends professional and technical courses with hands-on training. The 67-credit program will allow Alston to graduate with an Associate of Applied Science. When he completes the program, he will be able to enter the workforce as a chef, sous chef, pastry chef, or personal chef in restaurants, hotels, resorts, or country clubs. Alston is currently using his Culinary Arts skills by working in the food service industry at the University of Virginia while taking his classes at PVCC.