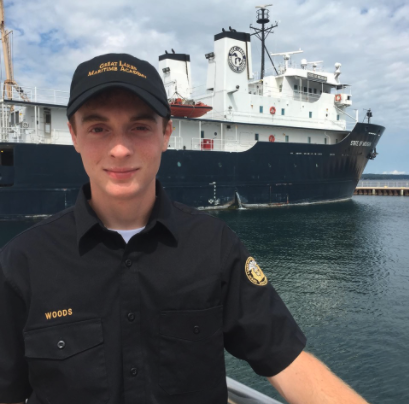 CATEC Alumnus Uses EMT And Fire Knowledge In Maritime Engineering
Amanda Jay
Monday, March 23, 2020
CATEC Alumnus Uses EMT And Fire Knowledge In Maritime Engineering
Recent two-time CATEC graduate, Kenley Woods, began his newest academic adventure in August at Great Lakes Maritime Academy in Traverse City, Michigan. Woods is studying Maritime Engineering for four years and will earn a Bachelor of Science degree in Maritime Technology when he graduates. He is learning how to efficiently operate and maintain ship engines and support ship machinery. Woods will graduate with his Coast Guard license and will be an Officer, First Engineer. Graduates from this program leave as highly credentialed and experienced engineers with in-demand maritime experience.
Woods met a current merchant marine engineer who graduated from Great Lakes Maritime Academy at a CATEC Career Fair last January. Woods was immediately drawn to the college's opportunities to study marine engineering and travel the world. Upon this encounter, he said his life took a "turn for the better" when he realized this job seemed "impossibly perfect." He began the application process right away. Out of 400 applicants, Woods was one of 60 cadets accepted for the 2019-2020 year, and one of only 24 students studying engineering.
A Firefighter and EMT by Age 18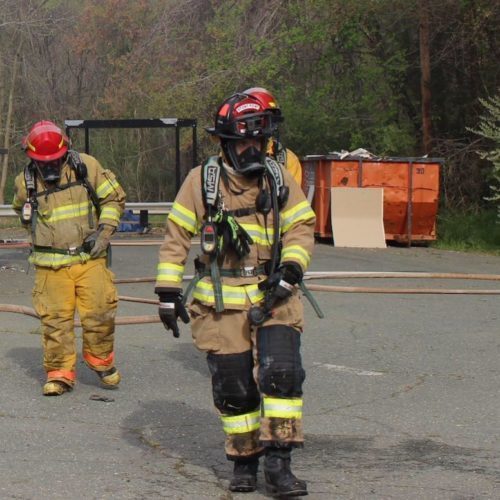 Woods attributes much of his success to his accomplishments at CATEC. Along with his application, Woods had an in-person interview with admissions officers in Michigan. Woods said he "realized how much CATEC had done for me" when the admissions offer said "you are only 18 and you are a firefighter and EMT." He said CATEC has been a "rock in my life" because it provides real-world training for real-world certifications.
Woods first graduated from CATEC in 2018 when he completed the Emergency Medical Technician program. He returned for the 2018-2019 school year to take CATEC's firefighting course and was a volunteer firefighter in Charlottesville. He graduated from the program in 2019 and received his Virginia Fire I and II certifications. All together, he earned 24 college credits as a dual-enrolled student at CATEC. Woods was a featured student speaker at CATEC's graduation last year. This experience helped him earn acceptance at Great Lakes Maritime Academy.
CATEC: Career Training for Students & Adults
The Charlottesville Albemarle Technical Education Center (CATEC) is a regional technical education center, which helps high school students and adults obtain the jobs they seek. Our centralized, unified career development program helps students develop strategic approaches to cultivating their careers. CATEC was founded in 1973 and serves students from both Albemarle County Schools and Charlottesville City Schools.
By: Amanda Jay